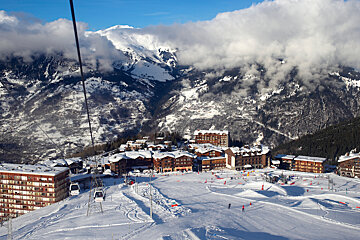 © Hotel Les Cimes Blanches
Where to stay in Courchevel
Discover the top Courchevel places to stay
You've made up your mind – you want to come to Courchevel on your next holiday. As you research your trip, you'll discover that there's more than one town in the area and that they all offer a great selection of chalets, apartments and hotels. Accommodation is one of the biggest expenses when booking a holiday, so you want to make sure that you've chosen the right location. Worry not, we're here to help.
With a global reputation for luxury and world-class skiing, Courchevel definitely targets the top end of the holiday market. Its charming towns and easy access to the Three Valleys, the largest joined ski area in the world, have made it a favourite among the rich and famous. But this resort isn't only for the super-wealthy, there are affordable options here as well.
There are five towns and villages that come under the umbrella of the brand 'Courchevel', all of which are linked to the pistes thanks to an extensive network of ski and summer lifts. Located at different altitudes, you'll find Courchevel Le Praz, Courchevel Village, Courchevel Moriond, Courchevel and, a bit further out the valley, La Tania.
Five things to consider before deciding where to stay in Courchevel
When it comes to booking accommodation in Courchevel, there is certainly no shortage of choice. Whether you are looking for luxury hotels, chalets for large groups or apartments that are as close to the lifts as possible, you'll find it all here. This guide to the different sections that make up this superb area should help point you in the right direction so that you are situated as close to whatever action you're looking for. But, first things first.
Where should you stay in the Courchevel Valley?
It depends on the type of holiday you'd like to have. It's always a good idea to know exactly what you're looking for: chalet or apartment, party or tranquillity, sporty or relaxed – a holiday in Courchevel can offer all of these things. With an impressive assortment of accommodation hot spots, from the glamorous town of Courchevel to the local's favourite Le Praz, Courchevel is full of surprises.
These are some of the things you may want to consider in advance before you pick the place you want to stay in:
Distance to the pistes: Being able to ski to your door is everyone's dream – there's no better feeling than putting your skis on right outside your front door. Courchevel and its surrounding area offer a great selection of ski-in/ski-out apartments, chalets and hotels. However, bear in mind that these very sought-after spots are usually more expensive than the places further away from the pistes so, if you want to save some money, you can always rely on the excellent network of free shuttle buses that run along the whole length of the valley and will take you to the foot of the slopes in no time.

Quiet or bustling: Is après-ski as important (or more important) than the skiing itself? In that case, you'd want to stay as close to the bars and clubs in resort as possible. However, if you'd rather stay in after a day on the slopes and prefer to avoid the hustle and bustle of the centre, one of the charming villages surrounding Courchevel is probably a better choice – and, if you find yourself itching to party, you can always hop on a bus to the centre of Courchevel.

Amenities: Ask yourself what you'll need around you when holidaying in Courchevel. For example, if you're self-catering, you probably want to be as close to the supermarkets and restaurants as possible, while those staying in catered chalets and hotels may not need to. Having shops, ski and/or bike hire places and cafés around you can be very handy but also quite noisy.

Things to do: As with amenities, not everyone will need the same services nearby. For example, families will want to be near the ski schools meeting points to avoid trudging across resort in ski boots carrying yours and your children's skis. Having the local swimming pool and sports centre close by is also a great idea for those coming with little ones as it'll keep them entertained after a day on the slopes. Or perhaps you need a spa for a good back rub or to soak your sore muscles in a hot tub after a few hours snowboarding.

Budget: Last but not least, location is key when it comes to saving money. Generally, the closer you get to the slopes and to the resort centre, the steeper the prices will be, while the villages further away from the lifts will usually offer cheaper deals. You may have to sacrifice convenience for budget but worry not, you'll never be further than 35 minutes from the world-renowned Courchevel pistes thanks to the aforementioned shuttle buses.
Our local team's top tip: When booking accommodation, take a good look at the photos. You're going to be spending some time in this space so you may as well feel comfortable in it. It's not just about whether you prefer a cosy rustic interior or a light and airy open plan space, but also whether the layout and décor fit your needs. Are the rooms big enough? How about the bathrooms? Is there a super-modern, steep staircase your toddler won't be able to climb? What floor is the apartment on? Is it accessible by a lift? All of this matters when choosing your accommodation and not every town in Courchevel will be able to provide all sorts of styles.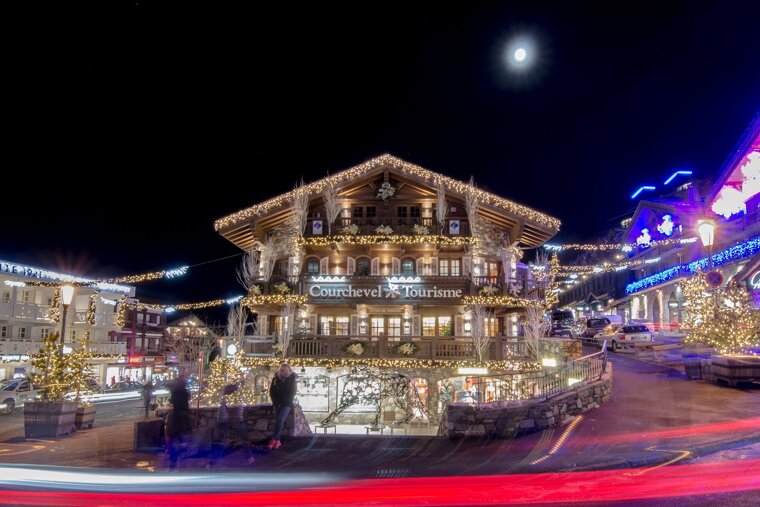 Courchevel (1850): Glamorous, exclusive & quite expensive
Home of the wealthy, Courchevel 1850 is the height of luxury during the winter ski season. And it's not without a reason – not only does it have some of the best hotels, chalets, restaurants and bars in the Alps but it also boasts super-easy access to the largest ski area in the world.
Who should stay in Courchevel 1850?
If five-star, luxury and boutique are your accommodation mantras, then Courchevel 1850 is the best place for you to stay. This resort is home to the most luxurious hotels and the finest chalets that money can buy. It's also where celebrities come from all over the world to... ahem... ski, and it has the best access to the slopes of Courchevel and the Three Vallees. While there are a few more affordable self-catering apartments and catered chalet rentals available in areas such as Le Plantrey, you will always be paying a premium to stay here.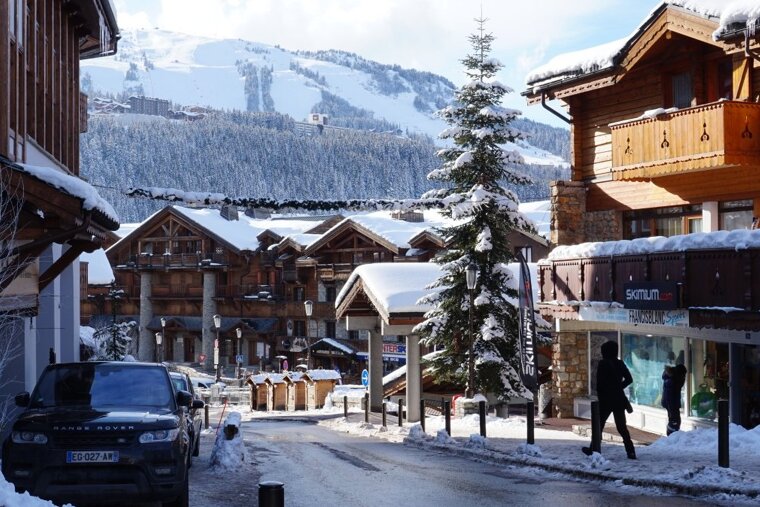 Courchevel Moriond (1650): Lower in altitude and in budget
If your lottery numbers have not quite come in, then Courchevel Moriond is probably going to be a more suitable holiday destination than Courchevel itself. Accommodation in Moriond is more affordable on every level and there are numerous hotels, chalets, and apartments here that won't break the bank.
Who should stay in Courchevel Moriond?
Moriond has its own ski area that links into Courchevel and has become more and more popular over the years as a destination in its own right. Courchevel Moriond has a friendly vibe and a great nightlife scene that won't break the bank in quite the same way as the bars and restaurants of Courchevel will.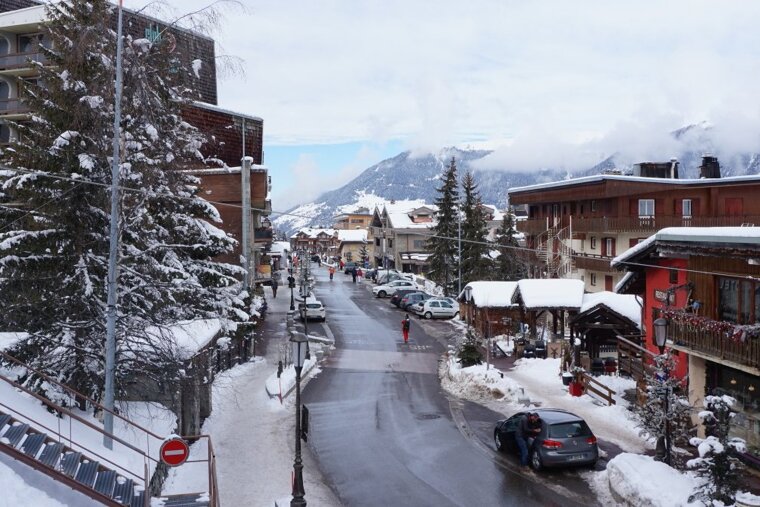 Courchevel Village (1550): Traditional family skiing in a quiet Alpine village
At an altitude of 1,550m, Courchevel Village is more affordable than its two higher siblings and offers a slower pace of life.
Who should stay in Courchevel Village?
A lovely traditional Alpine village and much quieter than Courchevel 1850 or Courchevel Moriond, Courchevel Village is ideal for families. However, it is more difficult to reach these more lively areas at night, so it is not best suited for those looking to party and make the most of the nightlife. Having said that, access to the main ski area is really easy and Courchevel is just a gondola or chairlift ride from Courchevel Village itself. Hotel, apartment and chalet accommodation is also cheaper here, as are the bars and restaurants.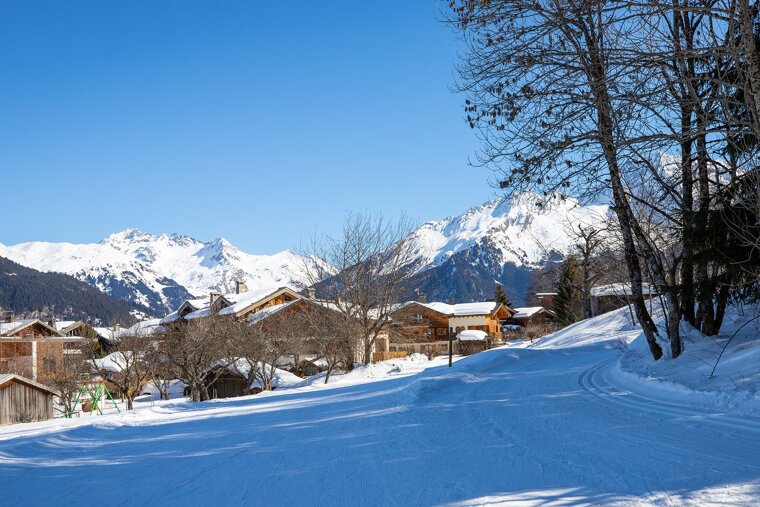 Courchevel Le Praz (1300): Alpine Village populated year-round
Lower down the valley is the peaceful Savoyard village of Le Praz with direct lift access to the Courchevel. This authentic French village has stayed comparatively untouched by all the glitz and glamour that has come to Courchevel in recent years and operates much more like a local community than a resort.
Who should stay in Courchevel Le Praz?
Courchevel Le Praz is another great family destination with good access to the main ski area. Like Courchevel Village, Le Praz offers cheaper accommodation for those looking for a quieter ski holiday in Courchevel. There are numerous apartments and chalets to choose from here.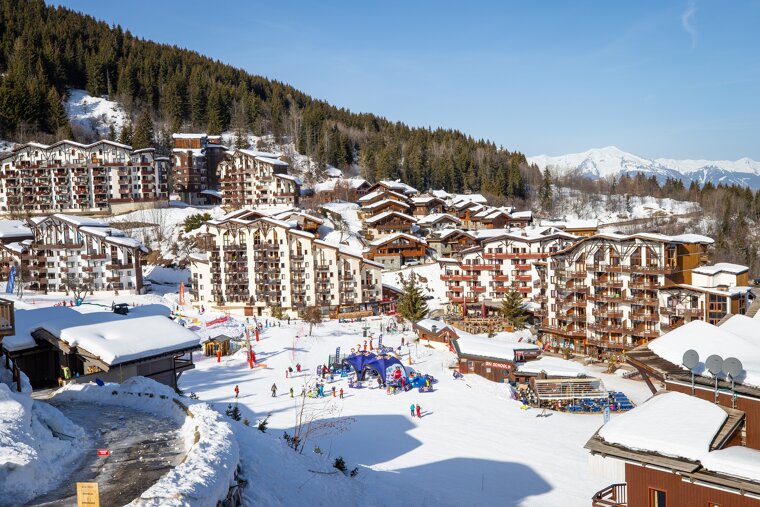 La Tania: Purpose-built resort between Courchevel & Meribel
La Tania was built in the 80s to be the dedicated athlete and journalist village for the 1992 Albertville Winter Olympics.
Who should stay in La Tania?
A small resort with lots of lovely stone and wood-clad buildings, La Tania can offer cheaper accommodation options than the other Courchevel villages. The town itself has developed its own identity, has some great bars and restaurants, and is now a ski destination in its own right. It is particularly popular with British holidaymakers looking for a good-value Courchevel ski holiday experience.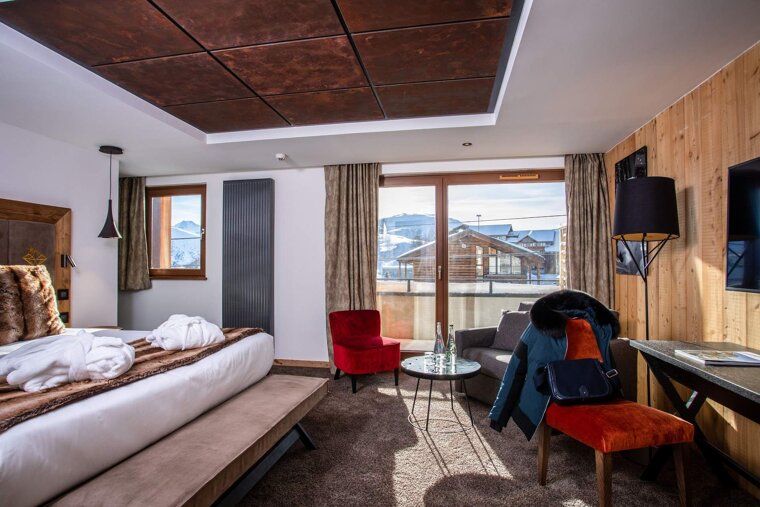 Luxury hot spots in Courchevel
Finding luxury accommodation in Courchevel isn't exactly difficult. Perhaps the swankiest resort in the Alps, it offers plenty of high-end options, many of which feature private swimming pools, spas, hot tubs and even cinema rooms.
Where are luxury chalets and apartments located in Courchevel?
Most luxury chalets and apartments in Courchevel are situated in Courchevel 1850, the most glamorous resort in the French Alps. Not only do they offer all the high-end services and facilities you could muster, but they're all located near the ski runs and the town's upmarket boutiques and Michelin-starred restaurants.
Are there any five-star hotels in Courchevel?
Courchevel has not one but 11 five-star hotels, and four of them have achieved the even higher 'Palace' rank: Les Airelles, Le K2 Palace, Les Neiges and Le Cheval Blanc. They're all located in the town centre, near the slopes and the local restaurants, bars and shops. Not that you'd want to leave! They all boast stunning spas, gourmet restaurants (including four 2-Michelin-starred restaurants) and cosy but grand bedrooms with plush beds and panoramic mountain views.
Romantic corners in Courchevel
High snow-capped peaks, deep luscious forests, white snow-filled fields and cosy wooden chalets with roaring fires – a ski break can be the most romantic of holidays. In Courchevel, you'll be able to make all your fairy-tale escapade dreams come true.
What's the best place to stay in Courchevel for couples?
All of the Courchevel towns offer the quintessentially picturesque Alpine holiday. Picture large, modern ski chalets nestled between the trees where you can relax in the hot tub at the end of a hard day on the pistes and enjoy wonderful panoramic mountain views.
Group accommodation in Courchevel
Groups have very specific needs, namely a big enough space and easy access to the slopes and the resort's amenities.
Where in Courchevel can you find large apartments & chalets for groups?
All around the Courchevel Valley, you'll find chalets and apartments accommodating up to 10 people and more. However, if you want to impress your guests or you want your group of friends to make the most of what Courchevel has to offer, staying in the centre is key. Courchevel Moriond is the second-best option, with more affordable accommodation options than 1850 but an equally lively nightlife.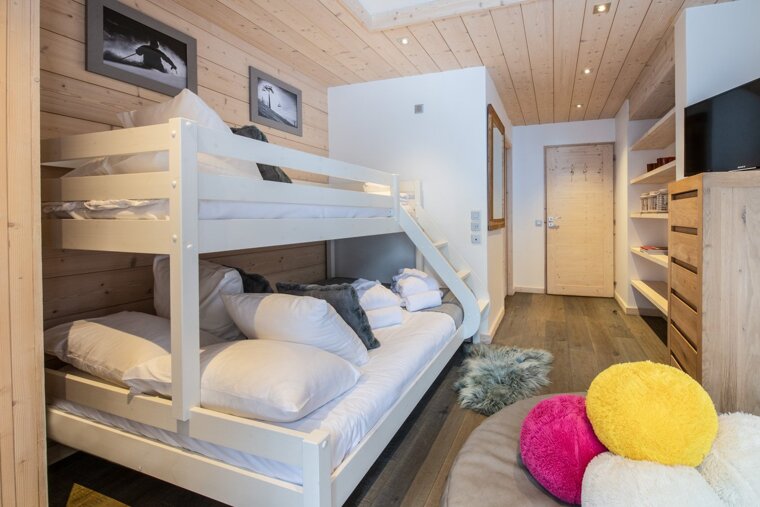 Family-friendly areas in Courchevel
When travelling with young children, you ideally want to stay somewhere that has lots of facilities and services nearby so that you don't have to travel long distances to get to the slopes or the restaurants.
What's the best area for families with children to stay in Courchevel?
A quiet town with easy access to the pistes, ski schools and with plenty of things to do off the slopes, Courchevel Village is perfect for families with little kids. La Tania is another great option as it offers cheaper accommodation options, a slower pace of life and easy access to the runs.
Cheap accommodation in Courchevel
Courchevel may not be well-known as the cheapest resort in the French Alps but you can still enjoy a budget-friendly holiday here, especially if you know where to look.
What's the cheapest area to stay in Courchevel?
The modern, purpose-built centre of La Tania offers some nice but affordable apartments. This is where most of the local community lives year-round, so there are plenty of services available here, including bars, restaurants and shops.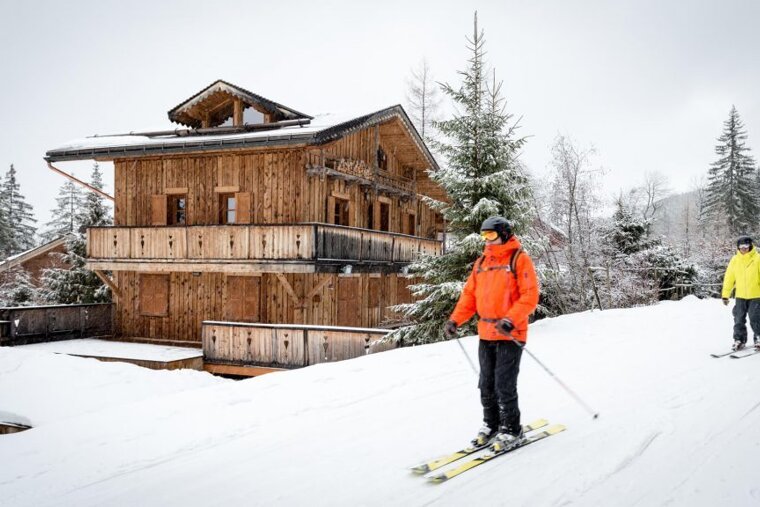 Ski-in ski-out accommodation in Courchevel
Ski-to-door accommodation is very popular in Courchevel, which means that it gets booked out quite quickly. Prices are also usually more expensive than the accommodation a bit further away from the slopes. However, there's no greater feeling than arriving at your doorstep with your skis on, so get on booking as soon as you can if you want to experience it yourself.
Where can you find ski-to-door accommodation in Courchevel?
Courchevel 1850 has the best access to the ski slopes in the Three Valley, but it often comes with a hefty price tag. However, it may be worth cashing out to have the be able to ski back right to your front door.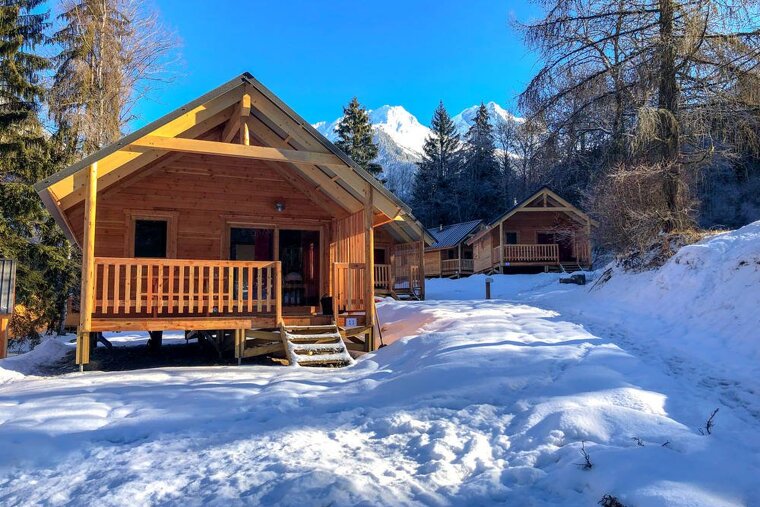 Camping & glamping in Courchevel
There's a couple of campsites and motorhome areas in Courchevel and its surrounding area. Although most are open only in the summer, there's a few open in the winter and even during the off-season – it's better to enquire before you book.
Are there any campsites in Courchevel?
No, there are no campsites in Courchevel itself. The two closest ones are located on the way up to the resort in Brides-les-Bains and Bozel.
Are there any motorhome areas in Courchevel?
France is famous for its well-equipped motorhome areas or 'aires de camping-car' and Courchevel is no exception. The resort has one motorhome area located on the Parking du Saz, in La Tania, which is free to use. There's a waste disposal area and water available at the Parking Jean Blanc, in Courchevel Le Praz.