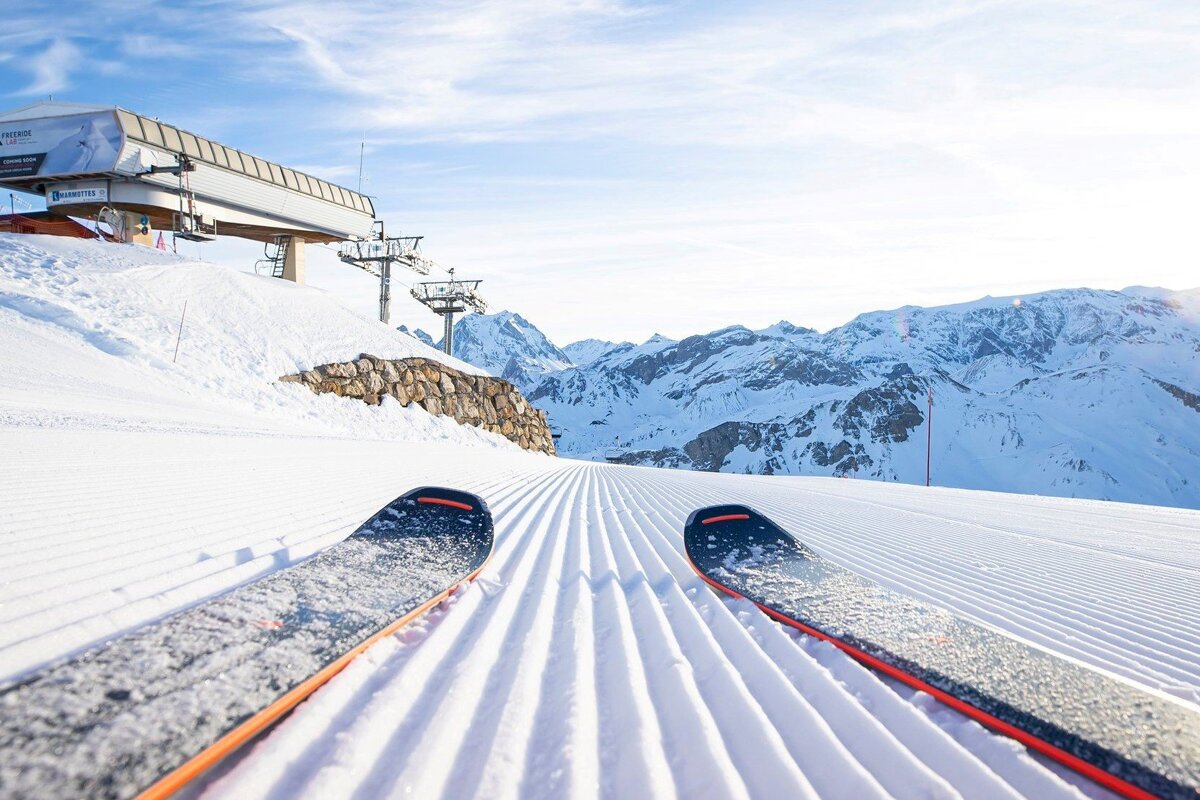 Ski Pass Prices in Courchevel
Discover & book Courchevel lift passes
Courchevel is part of the Three Valleys, the world's largest ski area with more than 650km of pistes spread over France and Switzerland including resorts such as Courchevel, Méribel and Val Thorens. Buying a Courchevel lift pass is money well spent!
To start with, be aware there are two main types of ski pass to choose from:
Courchevel Valley pass - the cheaper local ski pass, offering access to 150km of pistes; suitable for beginners.
Three Valleys pass - whole area pass, offering access to a whopping 600km of pistes from Courchevel all the way across to Val Thorens.
In our experience, most people visiting Courchevel stay for a week, which means that six-day passes are the top choice among skiers and snowboarders who want to enjoy our mountain playground.
Courchevel 6-Day Ski Pass Prices - 2022/23
Cheapest Lift Pass
Biggest Lift Pass
Courchevel Ski Pass
Adult (13-64 yrs)
€325
Three Valleys Ski Pass
Adult (13-64 yrs)
€360
Season dates in Courchevel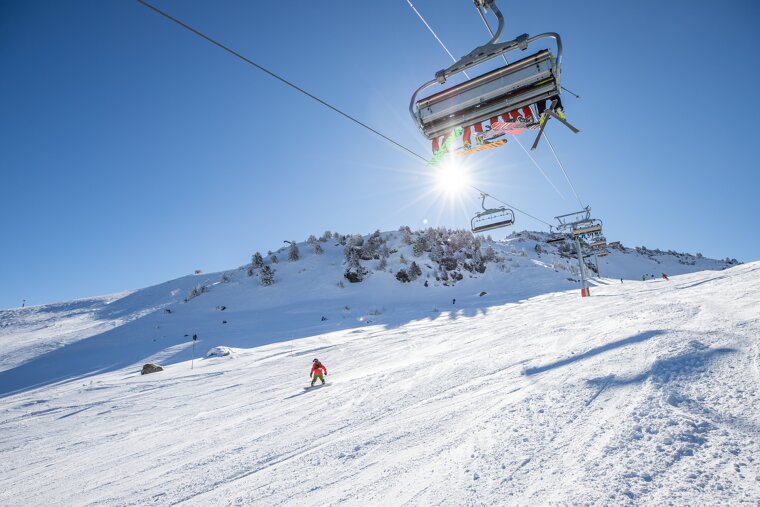 When can you ski in Courchevel with your ski pass?
The Courchevel ski season runs from 3rd December 2022 to 23rd April 2023. Ski pass prices are usually cheaper at the beginning and the end of the season, when not all of the lifts may be open. Therefore, there are three season bands that apply to lift-pass prices:
Courchevel Season Dates - 2022/23
Early Season
Main Season
Late Season

3rd-16th December 2022

17th December 2022 - 14th April 2023
15th-23rd April 2023
How much are ski passes in Courchevel?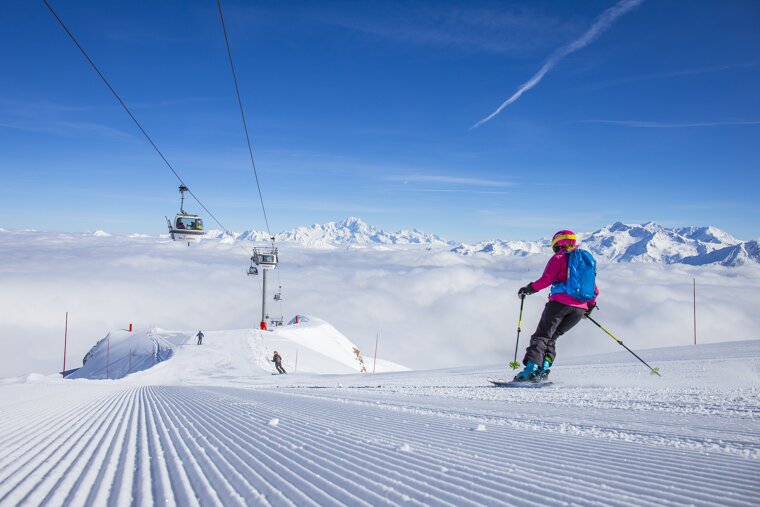 It depends. Ski pass prices in Courchevel change according to whether you choose a local or full area pass, your age, the number of days you want to ski for, the time of year and the area you want to ski in. Courchevel also offers some great discounts available for families and groups.
How to buy your Courchevel ski pass
You can buy your pass online and then collect it in resort or have it delivered to your home. Before you buy anything, we recommend you check the weather forecasts for your arrival and/or speak to your accommodation provider or ski school, who should be able to advise you of the best options.
Deals & discounted ski passes in Courchevel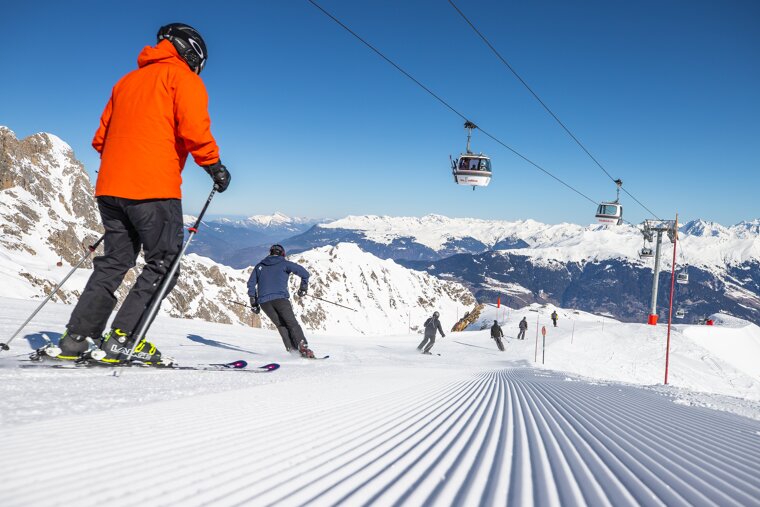 Are there any ski pass deals and discounts in Courchevel?
You bet there are...Courchevel offers discounted ski passes for groups of two and three people, families, beginners, and those coming early or late in the ski season.
If you're looking to save money on your lift pass, make sure you're check out the best ways to reduce the overall cost. Quite often the pricing structures can be complex, so it's worth reading our guide below to give you some insights, depending on your circumstances.
What are the best ways to save money on Courchevel ski passes?
Look out for early pre-season sales and start/end of season discounts
Buy Group or Family packs if eligible, buying all passes together
Buy online ahead of arriving to save both time and money in resort
Buy six-day passes, for a better per day rate over shorter durations
Buy the local area pass rather than full area, albeit with fewer ski options
Group ski passes
The Three Valleys Pass offers discounts for groups of three or more people skiing together. So, if you're skiing as a group then go for the Tribu passes and save. To qualify for this offer, all the passes must be for the same ski area and duration and bought together online in one payment. These passes are available for six or seven days. Special discounts are available to groups of 20 and more, please contact the ski pass offices in resort for details.
Group Ski Pass Prices in the Three Valleys - 2022/23
Duration
Per person
(€)
TRIBU
3+ people
6 Days
340
7 Days
396
Family ski passes
Family discounts are available for both the Courchevel and 3 Valleys pass. Everyone in the family group pays the child's rate! Your family needs to be made up of a minimum of two adults and two children (aged 5-18 yrs), but you can include a maximum of seven children for the same price per person. To benefit from the discount, at least four identical ski passes must be bought online in one transaction. Proof of age will be requested for children and seniors, either at the moment of sale or in resort. Ages on the first day of skiing are taken into account and each member of the family will also require their own hands-free pass.
Family Ski Pass Prices in Courchevel - 2022/23
Per person
(€)
Courchevel Pass
3 Valleys Pass
6 Days
260
288
7 Days
300
332.80
Early and late season discounts
During the first and last few weeks of the season, reduced rates apply to both the Courchevel and Three Valleys area passes. The snow cover may not be 100% across the resort but the pistes will be quieter, the service in bars and restaurants less frenetic and you could be very lucky with the weather.
Weekend specials
Whether you are skiing alone or with friends, you can benefit from weekend discounts if you ski on a Saturday, or Saturday and Sunday, for the 3 Valleys ski pass. This offer can only be purchased online but it will give you up to 20% off the normal rate for a one or two-day pass.
Disabled Skiers
Up to 50% discount is also available for disabled skiers and their accompanying person upon the presentation of a disability badge. Many of the ski lifts are handiski-accessible and lift operators are on hand to offer assistance when required. Adaptive ski equipment can be hired in resort and there is reserved parking at certain places throughout the resort.
Free ski passes in Courchevel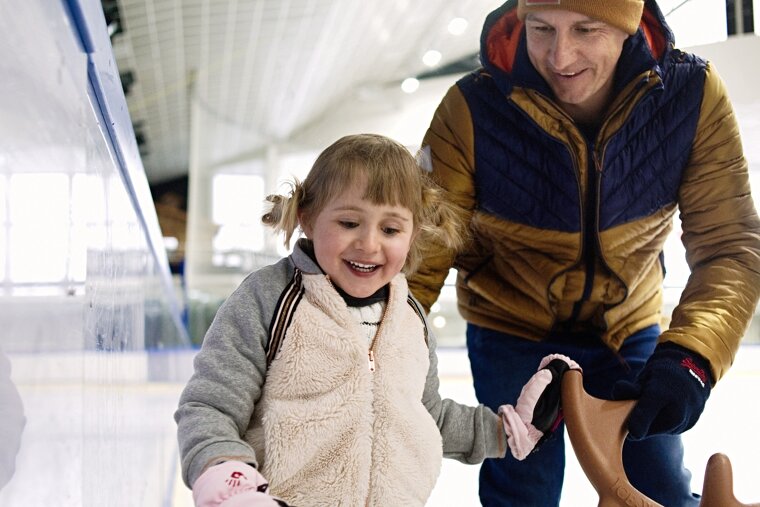 Who can ski for free in Courchevel?
Yes, you heard it right, you can ski for free in Courchevel! There are free ski passes available to young children and seniors, while a few lifts and pistes are free to use.
Everyone aged under five and over 75
Children aged under five years old and people aged over 75 ski for free. Proof of age required at the moment of purchase. A €3 fee will be charged for the hands-free card.
Free beginner lifts
In Courchevel there are a number of free lifts for you to use in La Tania (Troika and Le Praz), Courchevel 1300: Envolée, Courchevel Village: Roys, Courchevel Moriond: Belvedere and Mickey and Courchevel: Cospillot, Bellecote, and Etoiles. NB. not all of these are marked on the piste map.
Cross-country ski pistes
Good news for cross-country skiers: there's no need to buy a pass as the 67km of trails in the Courchevel valley are completely free of charge. Equipment can be hired from most sports shops and you can pick up a guide booklet and map from any of the ski pass offices to show you where the trails are and their difficulty grading.
3 Valleys ski pass price list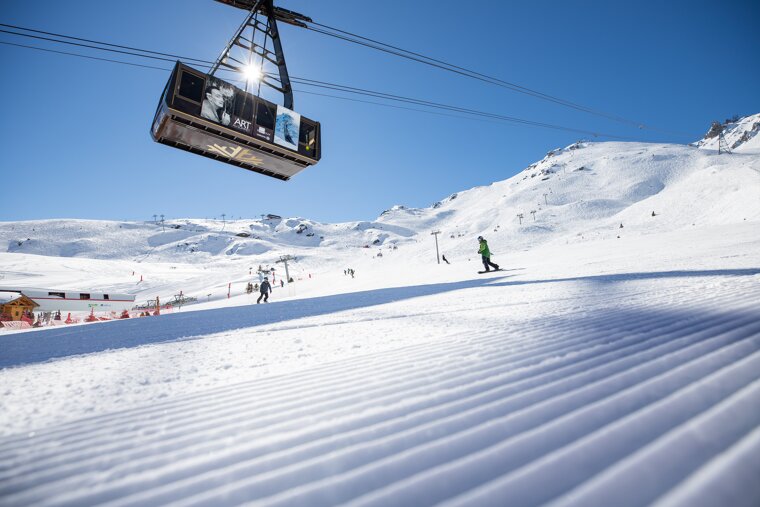 Where can you ski with a Three Valleys lift pass?
The 3 Valleys ski pass includes access to 600km of marked pistes. With this pass, you can enjoy the full extent of the world's largest ski areas, which incorporates seven linked ski resorts: Méribel/Mottaret, Courchevel, La Tania, Val Thorens, Les Menuires/St Martin de Belleville, Orelle and Brides Les Bains. Three Valleys lift passes are available from four hours to 14 days, as well as for the whole season.
Who should buy a 3 Valleys ski pass?
The 3 Valleys ski pass suits intermediate to expert skiers who want to have access to one of the largest ski areas in the world. However, you don't have to be an expert to ski the Three Valleys as there are plenty of greens and blues across the area to allow any level of skier or boarder to enjoy it. Those staying in Courchevel for more than a couple of days, should also consider buying a Three Valleys pass as they have plenty of time to explore the 328 runs on offer.
Ski Pass Prices in The Three Valleys - 2022/23
Per person
(€)
Adult
13-64 yrs
Child
5-12 yrs
Senior
65-75 yrs
4 Hours
63
50.40
56.70
1 Day
72
57.60
64.80
2 Days
144
115.20
129.60
3 Days
216
172.80
194.40
4 Days
288
230.40
259.20
5 Days
340
272
306
6 Days
360
288
324
7 Days
416
332.80
374.40
Courchevel ski pass price list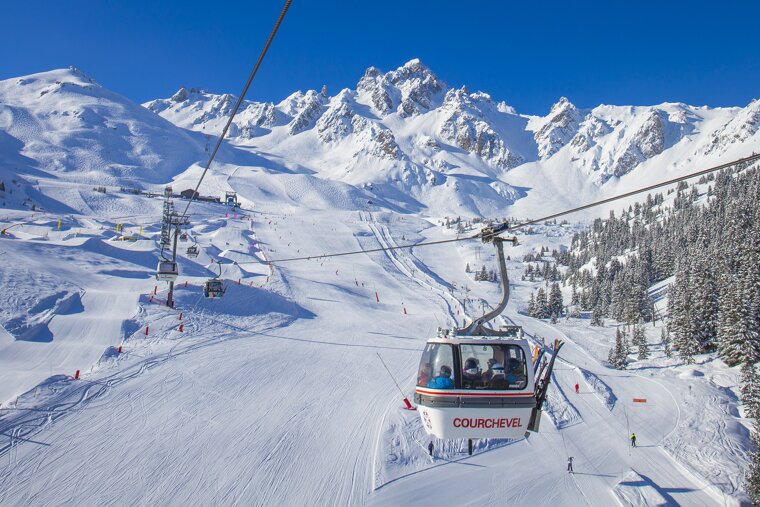 Where can you ski with a Courchevel lift pass?
The Courchevel lift pass gives you unlimited access to the 58 lifts in the Courchevel ski area, with 150km of pistes. Courchevel ski passes are available from four hours to 14 days, as well as for the whole season.
Who should buy a Courchevel ski pass?
Courchevel ski passes are perfect for beginner to intermediate skiers who will enjoy the gentle and wide green (19) and blue (35) runs. However, don't think this pass doesn't suit expert skiers – the ski area boasts 34 red and eight challenging black pistes and access to some great off-piste. The Courchevel ski pass is also a great option for those staying in the area for a short period of time. Alternatively, if you don't plan on skiing hard all day, every day, or have to get back to meet your little ones in ski school, then this local area pass will also suit you.
Holders of a Courchevel Pass of two days duration or more are also entitled to one entry into the Aquamotion Spa & Wellness Centre in Courchevel Village.
Ski Pass Prices in Courchevel - 2022/23
Per person
(€)
Adult
13-64 yrs
Child
5-12 yrs
Senior
65-75 yrs
4 Hours
55
44
49.50
1 Day
65
52
58.50
2 Days
130
104
117
3 Days
195
156
175.50
4 Days
260
208
234
5 Days
307
245.60
276.30
6 Days
325
260
292.50
7 Days
375
300
337.50
Can you upgrade your Courchevel ski pass to a Three Valleys ski pass?
Yes, if your ski pass is valid for at least two days there are one-day extensions available. Please enquire at one of the ski pass offices.
Pedestrian passes in Courchevel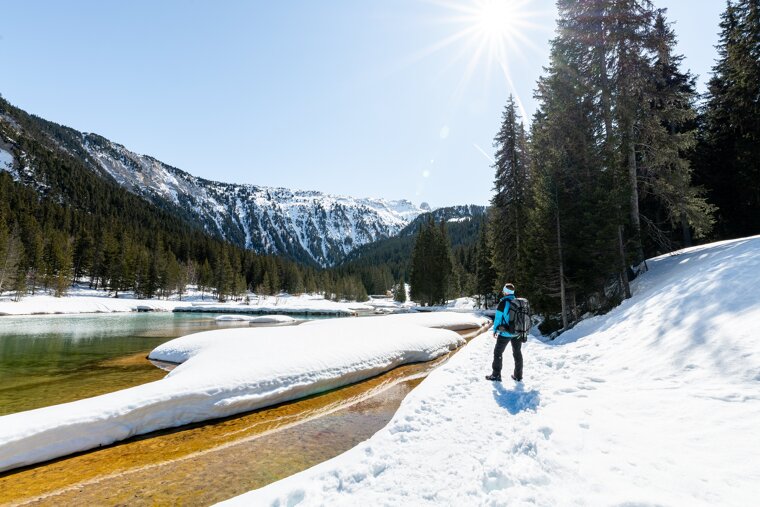 How much are pedestrian passes in the Three Valleys?
You'll be glad to hear that pedestrians can also enjoy the Three Valleys ski area in the winter. Pedestrian rates are available for one to 21 days, or for the whole season, and there are also single and return trips on individual lifts available.
Pedestrian passes are only available to buy at the ski pass offices in resort.
Pedestrian Pass Prices in the Three Valleys - 2022/23
Adult/Child/Senior
5-75 yrs
Per person
(€)
1 Day
27
6 Days
84
Other passes in Courchevel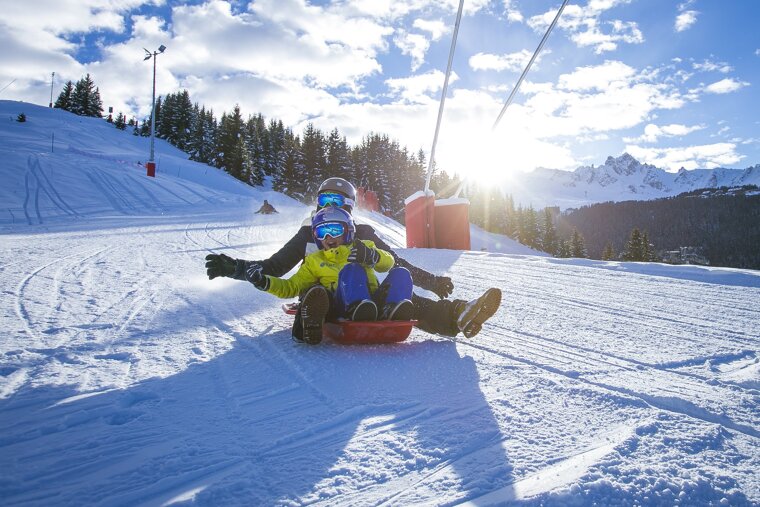 Are there any other passes available in Courchevel?
Yes, there are! Courchevel offers special passes for activities such as the sledge run or 'luge', as well as a subscription-based ski pass.
Luge passes
The sledge run in Courchevel Moriond is a whopping 3km in length and has an impressive 450m of descent. Travelling under the brand new Ariondaz gondola, it zooms through tunnels, zips over bridges and flies around the bends of an insane racecourse. Children must be over five years old and those under 1.25m must be accompanied by an adult.
Three Vallées Liberté Pass
If you are a regular skier in Courchevel and the 3 Valleys, then the 3 Vallées Liberté card may be of interest to you. Anyone that skis at least eight non-consecutive days a season can benefit from the total freedom to ski whenever they want without having to pass by the ticket office each time. Payment is debited directly from your bank account after you have enjoyed your day on the slopes and you can check your account online anytime. The more you ski, the greater the reductions you can accumulate with -10% off the daily public adult rate throughout the season and -20% off the daily public every Saturday on adult 3 Valleys pass prices. Your ninth ski day is free and then each sixth day after that. This pass is only available to buy online, and there is an annual subscription fee.
Annual & season passes in Courchevel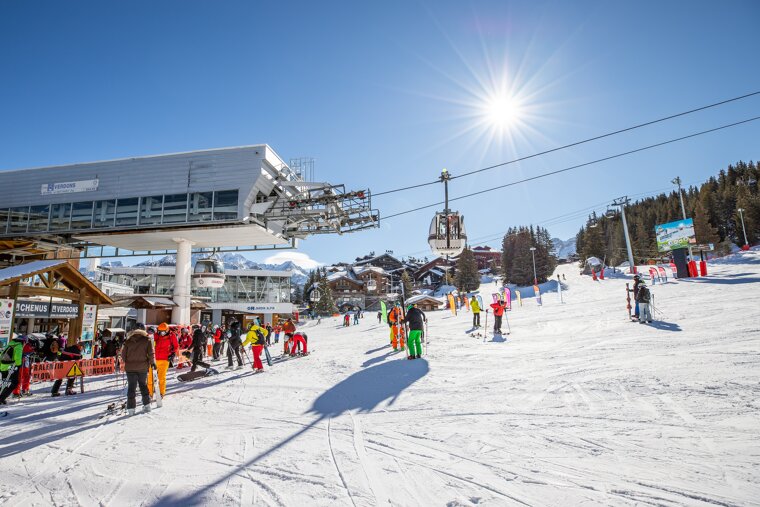 How much are season passes in Courchevel?
Courchevel season pass prices depend on your age and type of ski pass. There are family and group discounts available.
What's included in your 3 Valleys season pass?
Holders of the Three Valley season pass benefit from a reciprocal agreement with several prestigious ski resorts around the world. Get a free three-day pass for Shiga Kogen (Japan), Mount Buller (Australia), La Parva and Valle Nevado (Chile) and Matterhorn Ski Paradise (Switzerland), as well as a two-day pass for the three Vail Resorts in the USA.
With your Three Valleys season pass, you'll also get four luge tickets, free night skiing in Courchevel and a free one-day Three Valleys pass for a friend.
Ski Season Pass Prices in Courchevel - 2022/23
Per person
(€)
Courchevel
Three Valleys
Adult
30-64yrs
1,280
1,489
Child / Young Adult
5-29yrs
896
1,042.30
Senior
65-75yrs
1,152
1,340.10
Tribu
3+ people
-
1,409
Family
2 Adults+2 Children
1,024
1,191.20
Where to buy ski passes in Courchevel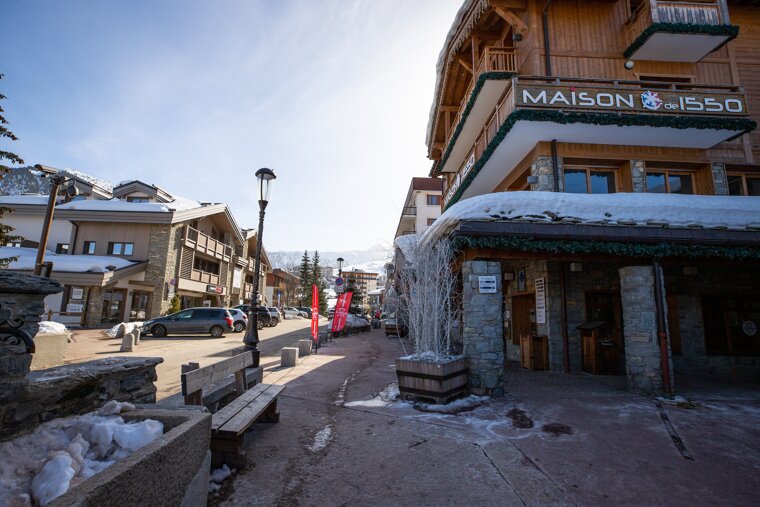 There are two main ways of purchasing your Courchevel ski pass: online and in resort.
How to buy your Courchevel ski passes online – A step-by-step guide
To save time and money, you can pre-order your Courchevel ski passes online. The process is really simple:
Click on the button below, which will take you to Courchevel's main lift pass website.
Select the area you want to ski in (Courchevel or 3 Valleys), the duration of the passes, your first ski day and the number of people, including their ages.
Any discounts you may be eligible for will be automatically applied to the price of your passes.
State whether you already have a rechargeable card (in which case you'll need to insert its WTP number – see below for more information) or you don't (a €3 fee will be added for the card).
You can also choose if you want ski insurance or not – we recommend you add it.
Create an account with your personal details.
Choose whether you want your ski passes to be delivered to your home address for a small fee (allow at least 10 days for delivery outside France and seven days within France), or you prefer to pick them up at one of the ski pass offices in resort.
Pay for your ski passes.
That's it, you're all ready to hit the slopes!
How to buy your Courchevel ski passes in resort
You can also buy your pass at a lift pass office when you get to resort. If you're uncertain of the pass you need or are looking to see how the weather is before buying your pass, then this can be a good option. The lift pass office staff is also great at advising exactly which pass is best for you while some passes, such as pedestrian and beginner lift passes, are only available at the ski pass offices. Be warned, though, you may have to queue, especially at busy times.
How ski passes work in Courchevel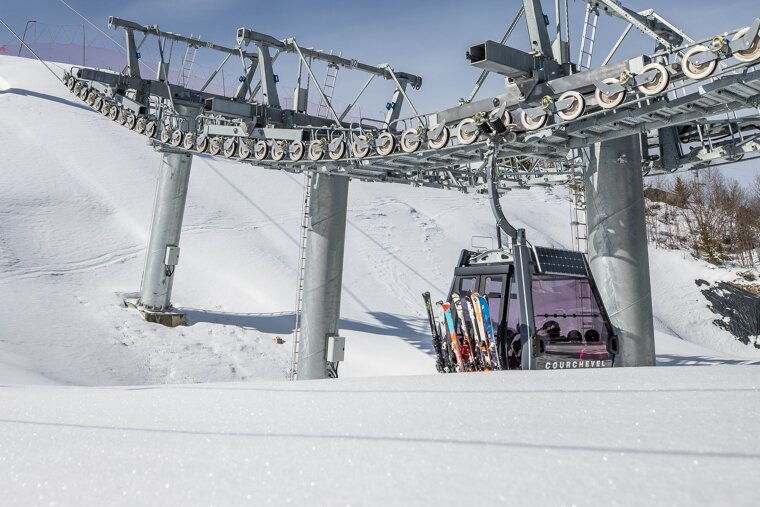 Ski passes in Courchevel are loaded onto a rechargeable SmartMedia card, which is more or less the size of a credit card and has a chip that stores the lift pass information. This hands-free card is read remotely at the entrance of the lifts, so you just need it to put it in a pocket on your left side (many ski jackets have a special pocket on the left sleeve) and the turnstile will activate remotely as you pass through. Keep it away from your credit cards, mobile phone or other ski passes as they may obstruct the card reading. Hands-free cards cost €3 in Courchevel, and this fee is not refundable.
What is a ski pass WTP number? You can recharge and top-up your Courchevel hands-free card as many times as you want over several years. In order to do so, you need to enter the card's WTP (Wireless Transaction Protocol) number when purchasing your pass online. You can find this number on your card. After you've recharged your hands-free card in advance, you can generally go directly to the lifts without having to stop at the lift pass offices.
Worth knowing – About Courchevel and Three Valleys ski passes
Unless otherwise stated, ski passes and prices are generally subject to the following terms:
A hands-free pass costs €3 if you don't already have one to recharge.
A photo is required for free passes and season passes.
The type or duration of the ski pass refers to consecutive days.
Prices shown are for the main season.
Passes are strictly personal and non-transferable.
When buying ski insurance as part of your Courchevel or Three Valleys ski pass purchase, either online or at the ski pass offices in resort, it will be provided by Carré Neige. The prices above do not include ski insurance, which you can add starting at €2.90 per person per day. Please, check the insurance policy and the company's T&Cs before purchasing.
Longer duration ski passes are available online and in resort.
Prices, offers, discounts and conditions are shown here as a guide only and are subject to change – to be confirmed at the time of booking. Further terms and conditions may apply. Prices may be subject to changes in sales tax.