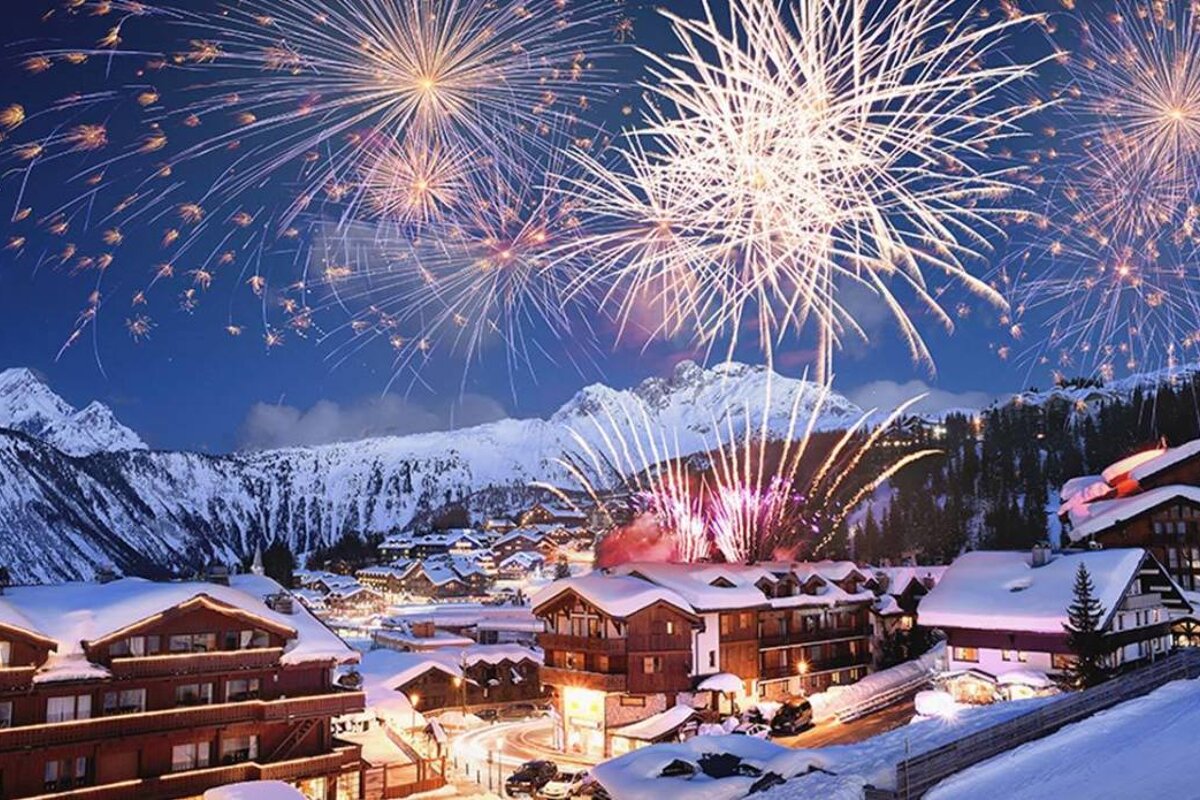 Family Holidays in Courchevel
Discover insights about Courchevel family holidays
Courchevel is one of the most famous and exclusive ski resorts in the world. With its designer shopping, luxury hotels and private airport, it has been welcoming the mega-wealthy for many years.
Despite this reputation, it's actually a great place to bring the family thanks to the wonderful skiing area, a fabulous swimming pool complex and excellent snow play areas. Yes, you will pay more for the experience, but equally you will have the pleasure of superb facilities, a modern ski lift infra-structure, and plenty of entertainment and activities for children.
Courchevel lies in the Three Valleys ski area and is renowned for its wide, immaculately groomed pistes that run through pretty Alpine forests. The resort consists of several villages on a hillside, and the higher up you stay, the better the chance you will have of finding ski-in/ski-out accommodation. This is important if you don't want to be carrying two or more sets of skis and all the paraphernalia that goes with skiing with children! You may encounter some steep slopes if walking between your accommodation and the centre of each village, and if you don't want to bring a pushchair or buggy, you can hire these in resort, or use a baby carrier instead. There is also a free and frequent bus service that runs throughout the resort. Have a look at a Map of Courchevel to see how it's all connected.
In addition to the top-notch skiing, Courchevel can offer families plenty of fun in the newly built Aquamotion, a swimming and leisure complex with indoor and outdoor swimming pools, slides, river rapids, kids play area and indoor surf pool. There is also an indoor climbing wall and spa area. Many of the restaurants are family-friendly, particularly in Courchevel Moriond and La Tania. In addition to the municipal crèche in Courchevel Monriond (they cater for children on holiday), there are several independent childcare companies and ski schools that can help you with looking after the kids.
Courchevel is a nice option for a summer holiday as well, particularly if you are a biking family. The Alps are very beautiful in summer with hot sunny days and cool nights, and plenty of activities and events to keep you occupied.
Accommodation for families
Taking the family on a ski holiday can be hard work so finding good family-friendly accommodation is essential to making life that little bit easier. Courchevel consists of five villages, each of which has a different feel and a wide range of hotels, chalets and apartments.
Courchevel
Courchevel is the main village, sitting at 1,850m altitude it is home to the five-star hotels, high-end chalets and Michelin-starred restaurants. Be prepared to splash the cash if you're going to stay here. And if you can afford it, you should! It has the best ski-in/ski-out accommodation, direct access to family snow-play zones and wonderful beginner green runs.
Courchevel-Moriond
The next village down is the popular Couchevel Moriond, at 1,650m. This is where many of the British chalet companies are based and it has a vibrant nightlife. Definitely more affordable than Courchevel itself, it has direct access to the western end of the ski area, with its own play zones for families and nice green runs for beginners. It is a bit of trek to access the rest of the Three Valleys ski area from here, but the speedy lift system ensures quick connections.
Courchevel Village
Courchevel Village (1,550m) is a quieter holiday resort with more affordable accommodation and direct gondola access to Courchevel. It's also where you'll find the amazing Aquamotion swimming complex.
Le Praz
Le Praz (1,300m) is a more traditional Alpine village with a full-time population and services. There are no nursery slopes in Le Praz but it is connected to Courchevel via two gondolas.
La Tania
Last, but by no means least, La Tania is the furthest outlying village connected to Courchevel. It was purpose built in 1992 for the Winter Olympics and caters mainly for families, with a good selection of chalet companies and nanny services. There is a small nursery area for beginners, and there is a good access to Meribel and beyond in the Three Valleys ski area.
If you plan on enrolling in ski school, find out where your meeting point will be so you can choose which sector to stay in. Lessons are offered in Courchevel, Courchevel Moriond, Courchevel Village and La Tania. For more advanced skiers who wish to explore the whole of the Three Valleys area, then staying in Courchevel, Le Praz or La Tania will be a good option as you will have quick access to the other valleys of Méribel and onwards to Val Thorens.
Lift passes for families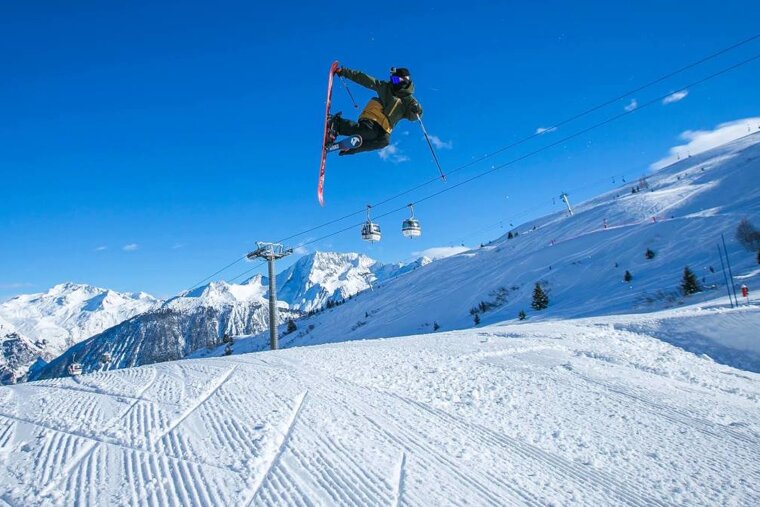 Various family ski passes are available - essentially, everyone pays the child rate. There are also special beginner passes and pedestrian passes available - children under five ski for free but you still need to get them a lift pass (with proof of age). Take a look at our Ski Lift Pass Prices page for more information.
Ski schools for families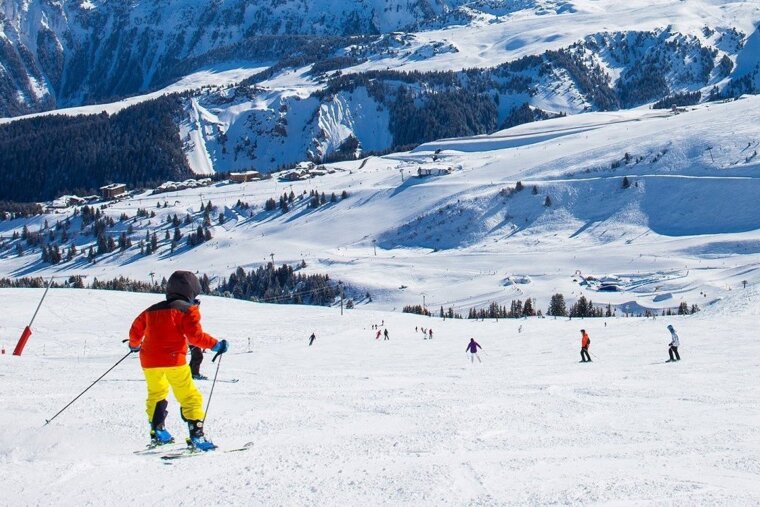 If you have designs on raising the next Shaun White or Chemmy Alcott, then getting your kids into ski school as soon as possible is going to be a priority! Ski schools will not take children under three, so if you think your child is ready earlier, then you will need to teach them yourself or hire a private instructor. If you want to teach them yourself, you can find out more about the nursery and beginner ski areas in Courchevel in our guide. All ski equipment (and sometimes ski clothing) can be rented at the ski hire shops in Courchevel, either when you arrive or you can book everything online in advance. They will need a helmet, mittens and goggles in addition to skis (poles are not initially needed for kids), and make sure they have enough layers on to stay warm. Remember to apply sun cream to their faces before they start and place a snack and your phone number in their pocket, just in case.
There are plenty of ski schools in the area offering ski lessons for children, many of them are British-run and are English-speaking. Most of the schools take children from four years old. ESF and First Tracks are the only ones who will take three year olds. ESF also offer a mix of skiing and day care for children as young as 18 months as one of their packages. For three and four year olds, the focus is on having fun in the snow and games are used as part of the teaching process. They learn to ski in their own specially designed snow gardens where they can play in a fun and safe environment. No ski pass is required. For children aged five and above, you can enrol them in courses according to their level, from beginners to good skiers who are nearing competition level.
Ski schools cater mainly for weekly courses, so if you are here for only a few days then you will need to enquire at reception when you arrive to see if there is any space for your kids on the days you are in resort. The alternative is to hire a private instructor for your dates.
Ski areas for families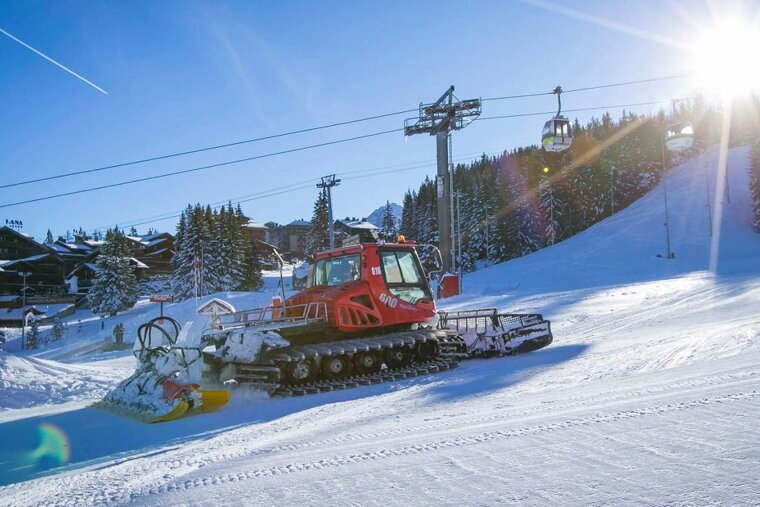 Courchevel is definitely a beginner-friendly ski resort with wonderful nursery areas and wide green runs for you to practice your turns on. All of the nursery areas (in each of the villages) have drag lifts you can use for free - no lift pass required. From Courchevel, there are a number of green runs which are designated 'Easy Rider' runs off the Verdons gondola, the idea being that everyone should go at a slow pace. Also here are two family friendly zones - the Wood Park (beginner freestyle park) and the Stop Zone (where you learn about stopping distance and speed). Over at Courchevel Moriond, there are nursery areas and similar long green 'Easy Rider' runs. Two more family friendly parks are accessed off the Combe lift - Snake Park is a boarder cross run, and Fun Park is a natural canyon just waiting to be explored. Below here is the Indian Camp where kids can play at being American Indians. You can find out more about the Beginners Ski Areas in Courchevel in our guide.
For more advanced skiers, you have the whole of the Three Valleys ski area to explore. With 600km of pistes and several snow parks there is terrain suitable for everyone. Courchevel lies at one end of this vast area, and thanks to its modern, interconnected ski lift system, it is quick and easy to explore the whole area.
There is one snow park in Courchevel and further parks in both Méribel and Val Thorens. The Family Park is just above Courchevel, off the Verdons gondola, and has something for everyone, no matter your ability. From small whoops for beginners to boxes and rails for more advanced riders, there is also a Big Air bag where you can practice your jumps in relative safety. There is also a timed slalom course at the BMW XDrive by the Loze lift. There's no way your experienced teenagers will get bored here!
Activities for families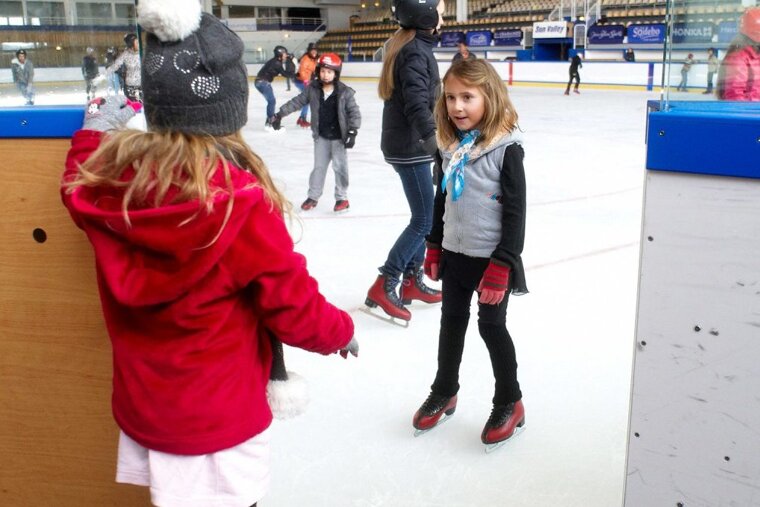 During the winter, if the kids are only skiing for half a day, then there are plenty of other activities available in resort to keep them happy.
On the snow
Staying on the slopes, there are dedicated sledging zones at top of the Tovets ski lift in Courchevel, and by the Belle Etoile holiday complex in Courchevel Moriond. There is also a dedicated adventure luge track - a 2km adrenaline-fuelled run down a 15% incline with banked turns through the forest from Courchevel to Courchevel Village. It's open every day and in the evenings during the season, and is free with your lift pass. Other fun snow zones especially designed for children can be found above Courchevel Moriond in the Indian Camp. You can wear war paint, traditional costumes, dance and sing songs around the camp fire. Or learn to hunt with a bow and arrow and play real Indians with all the family in the camp with its three new tepees. If you head to the Altiport (by road or by slope) in the afternoons your kids (from age six) can join an Adventure Camp where they can try airboards, paret or snake-gliss, or even snow-mobiling! No reservation required but there is a charge for the activities.
Ice skating
In Courchevel, there is Forum Centre which has an indoor ice skating rink, an indoor climbing wall and a bowling alley. There is also an indoor adventure mini-trail where children from seven years can scale Nepalese bridges, monkey bridges, ladders and giant spider's webs. Or for five years and over, let them loose on 'Tarzan vines' in the Forum's atrium. Other activities to consider for your children include snowman building, snowball fun, and if you want a real treat, try husky dog sledding where the little ones can ride in a passenger sledge with you - please note there is usually only one passenger sled per trip, so booking in advance is highly recommended to avoid disappointment. Also try horse drawn sleigh rides.
Indoors
In Courchevel Village (on the way to Courchevel Moriond) is the Aquamotion swimming and leisure complex. From indoor and outdoor pools to baby pools and surf pools, river rapids and diving pools, all the family can enjoy this complex. You can also go indoor climbing or take aqua fitness classes, and there is a spa area with beauty treatments. Other activities include cinema (look out for films in VOST for films in English). You can find out more about Non-Skiing Activities in Courchevel in our guide.
Non-skiers
For adults that aren't quite so sure of the skiing, there are plenty of spas you can try for some indulgence, as well as fitness classes, or perhaps some snow shoeing. Pedestrian ski passes are available at a reduced rate so you can join the rest of your group up in the high mountains for lunch and spectacular views.
Entertainments
During school holidays, the tourist office organises plenty of events designed for children. Over Christmas you can expect street parades, lantern processions, carol concerts, and Santa Claus. Check our Events Calendar for details.
Summer
Summer holidays in Courchevel are all about being active and there are a wealth of activities on offer here for all ages and members of the family. Our dedicated guide to activities in Courchevel includes a section specifically on kids' activities with information on horse riding, short family hikes, high ropes courses, where to go swimming, nature parks, and numerous other fun things that will help make your family holiday as unique and memorable as possible!
Baby equipment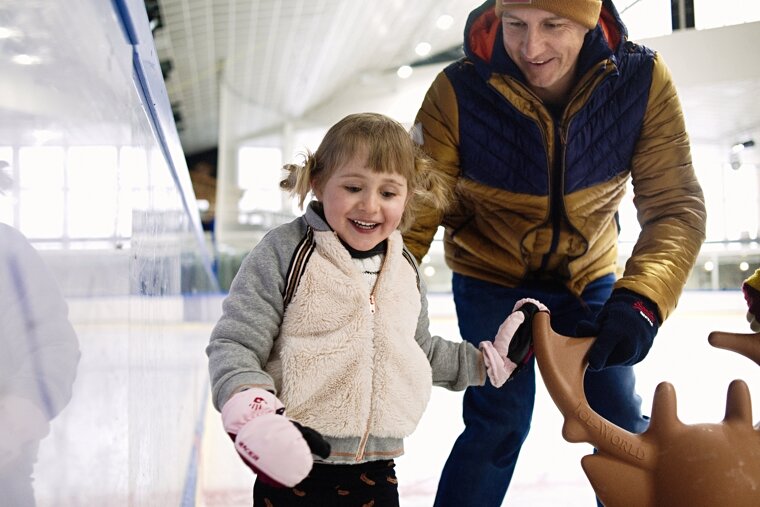 It is possible to hire baby equipment in Courchevel - items such as high chairs, pushchairs, cots and playpens can be rented in resort. Check with your accommodation provider that they have what you need before you book. Look out for the 'Famille Plus' sign in the shops for 4x4 buggies, sledges and snow shoes.
Childcare services
There are plenty of specialist tour operators and chalet companies who cater for families and have in-house nannies to help with the childcare. Children under three are generally too little to try skiing so some help with childcare is essential if you plan on skiing yourself. Independent nanny agencies are also available, and should be booked well in advance of your holiday. Have a look at our childcare page for more information or you can contact the local tourist offices for a list of available babysitters. The tourist offices also have small play zones for children and a changing area. There is a soft play area at La Croisette in Courchevel which has toys, games and crafts that you can use free of charge (note, no changing area!) There is a nursery in Courchevel Moriond, for children aged six months to five years - book via the tourist office well in advance.
The main winter establishments to help with childcare include the ESF ski schools who offer a combination of tuition and childcare for children 18 months and older. You can book your child in for full or half day programmes and lunch can also be provided for an extra charge.
You may find that the main sports centre of each town host a kids club during the summer holidays, normally from 1st July to 30th August, with activities such as swimming, climbing, tennis, basketball, ice-skating, etc. and organised hikes and picnics.
School holiday dates
France divides its school holidays into a regional timetable to ensure that the entire country doesn't go on holiday at once - however, this staggered system can mean that some months (particularly February) can be busy from beginning to end as one region after another arrives in resort! Chamonix is in Zone A.
Zone A - Ain (01), Isère (38), Savoie (73), Haute-Savoie (74) Caen, Clermont-Ferrand, Grenoble, Lyon, Montpellier, Nancy-Metz, Nantes, Rennes and Toulouse
Zone B - Aix-Marseille, Amiens, Besançon, Dijon, Lille, Limoges, Nice, Orléans-Tours, Poitiers, Reims, Rouen and Strasbourg
Zone C - Bordeaux, Créteil, Paris and Versailles
For the latest school calendars check: French School Holiday Dates and UK and European School Holiday Dates
The best advice for novice skiers and snowboarders
---
Why Courchevel is great for beginner skiers
Coming to a ski resort for the first time as a beginner skier or snowboarder can be a bit daunting. With a little locals know-how, our tips and tricks will help you make the most of your time here and hopefully leave you desperate for more.