There's no better way to celebrate a great day on the slopes than with a few well earned après-ski drinks amongst friends. Whether you prefer to soak up the last of the afternoon sun with a quiet beer or dance on the tables in your ski boots, Courchevel has no shortage of great spots where you can amuse yourself when the lifts shut for the day.
The ski resort of Courchevel is made up of several small villages. The glitziest and most expensive village is Courchevel (1850m), and it will come as little surprise that the nightlife here comes at a price. Not only are drinks prices scarily high in many establishments, but the rising costs in resort have negatively impacted on the bar scene with many places shutting down in recent years to make way for expensive shops, chalets and restaurants. What remains are some seriously pricey French clubs and only a handful of bars worthy of a mention. With the ever shrinking selection of bars in 1850, Courchevel Moriond (1650m) is now the unofficial hub of Courchevel after dark. You'll find a wide array of bars to suit every taste with après bands, rustic French bars and DJs filling the dance floor til the early hours. Le Praz and La Tania have their own selection of nightlife that should easily see you through your holiday.
Après-ski
---
Ski Lodge (La Tania): This place has a great south facing terrace and an extensive drinks menu. Indoors you'll find the bar and live music where you can boogie, jump and shout/sing to your heart's content. Finish your Thursday ski with a final ski down to La Tania and experience the one and only Bring Your Sisters. Be warned, it's going to get sweaty.
La Boulotte (Courchevel Moriond): This small bar with big attitude gets packed out very quickly for Monday, Wednesday and Friday après. And come Thursday nights, every man, his dog and seemingly half the resort piles into this small bar, raising the roof and the temperature to near boiling point. It is not uncommon to see furniture moved onto the street in order to get more people in, that's if there is no one dancing on the tables. Not unlike an Austrian après bar, this place really goes off and isn't for the fainthearted. This is also possibly the best lunch spot in 1650 for home-cooked hearty fare that won't break the bank.
Fire and Ice (Courchevel Moriond): Hotel Portetta is home to this sunny decked bar where you can sit in the sun during a warm afternoon, and if it gets a bit chilly pull over a blanket under the heat lamps. Excellent vin chaud and ice shots are on offer depending on your mood. Be there during happy hour (16:30-19:00 and you'll be in for a treat with free stone baked pizza for everyone.
Ku-de-ta (Courchevel): One of the few places to offer a lively après in 1850, Ku-de-ta hosts live acoustic musicians accompanied by reasonably priced drinks in the heart of resort. Ski straight onto their sunny deck and then head inside for a jug or two more as the afternoon disappears into evening. Later it becomes an affordable late night drinking spot where anyone and everyone can let loose. You're never sure why, but invariably it's a good night.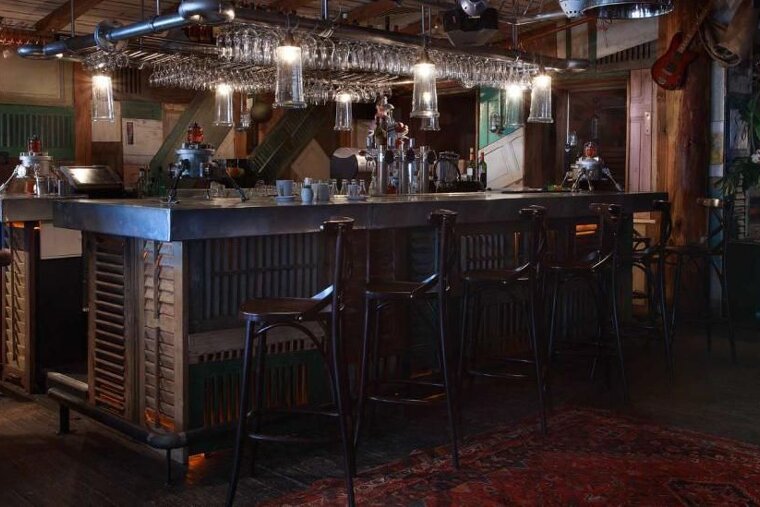 Late nights
---
Funky Fox (Courchevel Moriond): Everybody from everywhere will be here come the early hours. Every Tuesday they host their usual DJ sets, and on Friday nights they'll be showcasing an array of musical talent with everything from Blues and Saxophone, to Beat Boxing and Drum 'n' Bass. A selection of music including local bands and DJ's keep 'The Fox' partying every single night. Perfectly placed in 1650, you can almost fall out of the bar onto the bus to make you way home. It's open until 02:00.
L'Elephant (Le Praz): This revamped bar is the only place to be as the evening grows dark and the snow starts to fall. Get yourself involved at the front and sing along to the live music or hide away in the comfy booths at the back, it's fun for all. Open until 02:00.
Ski Lodge (La Tania): The small ski village of La Tania just about manages to contain the party central Ski Lodge. Everyone, yes everyone, will be in there from the moment the skiing stops. If a big après and delicious dinner is not enough, they have live bands, DJ's and a drinks selection to suit. You might not quite make first lifts after a night here though.
L'Arc, La Grange and Ku-de-Ta nightclub are there if you are after a more glamorous night out. Get yourself on the guest list and enjoy.
Wine bars
---
Cave des Lys (Le Praz): This adorable French wine bar is set in a traditional French cave, with low, domed ceilings and atmospheric lighting. With varied seating from intimate corners to high stalls, it's perfect for romantic evenings or drinks with friends. It has an extensive wine selection at reasonable prices. Simply select your tipple from the list or from the stacks on the shelves that line the room, and make sure you sample some of their incredible nibbles and charcuterie. With super-friendly service, this local secret won't stay so for long!
La Cabane (Courchevel Moriond): Nestled in amidst the streets of 1650, this miniature bar is a spot to hide away for an evening or just perfect to stop in for a quick drink as you stroll home after dinner. Not just a wine bar, there is also a small seafood stall that shucks oysters in the evening, making this a perfect little date spot.
Le P'tit Drink (Courchevel): A true wine and tapas style bar, with wine on offer to suit all budgets and tasty if not filling sharing platters. It's a charming place to cosy up by the fire in 1850 without the 'Courchevel price'. Perfect for a relaxing drink in a cosy atmosphere.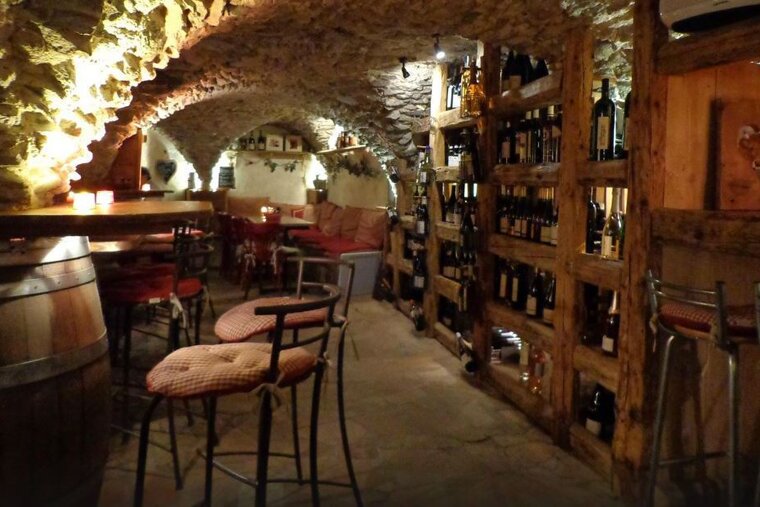 Live music
---
Le Bubble Bar (Courchevel Moriond): What is 'Après Après' I hear you ask? Well, if you're not quite ready to go home after the normal après party then pop over to Le Bubble where you can listen to more live music from 20:00 on Sundays, Wednesdays and Thursdays. Don't stop the party!
Le Caterail (Courchevel Village): Formerly Baroeuf, this French-run bar is promising live music every Thursday from 22:00 and describes itself as a Vodka bar....a little tasting and exploration might be in order.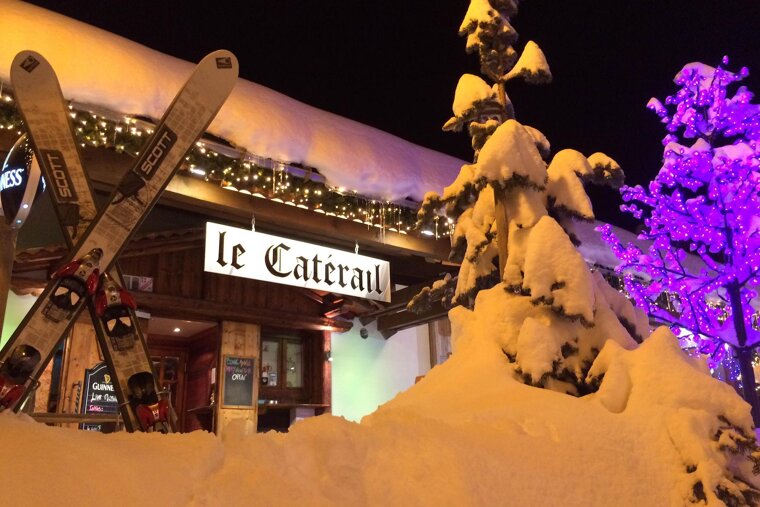 Best of the rest
---
La Luge (Courchevel): This modern French bar set in the back of the La Luge Concept store is a secret spot to enjoy a drink at all hours of the day, and night, in 1850. With a chilled atmosphere, sunny balcony and reasonably priced drinks, it attracts holidaymakers and locals alike.
Snow Lodge (Courchevel): Newly renovated in 2016, the Snow Lodge is a chilled out reasonably priced hide away in 1850. They host live lounge singers and cocktails to sip on as you sink into the large sofas.
La Cabane (Courchevel Moriond): Super-small French bar in the centre of town. It's friendly staff serve wine, beers and (randomly) seafood, with a mini bar outside as well.
Le Schuss (Courchevel Moriond): This atmospheric Savoyard French bar is a good option if you need reminding you've left England. But be prepared to pay for the privilege with higher than average drink prices and less than friendly staff.
La Taiga (La Tania): The Ski Lodge's more sophisticated sister bar, the Taiga serves cocktails in a relaxed setting with a roaring fire. Live music on a Sunday night, and great food keeps this place popular with a slightly older clientele.
Chrome Bar (La Tania): Right at the food of the piste, the Chrome bar does possibly the cheapest burgers in resort, and they're decent too making it a great choice for an affordable lunch. Drinks are reasonable and there's live music to keep drinkers entertained.
Telemark (La Tania): Relaxed bar in heart of La Tania's chalets which serves great pizzas and occasional live music of a more relaxed nature.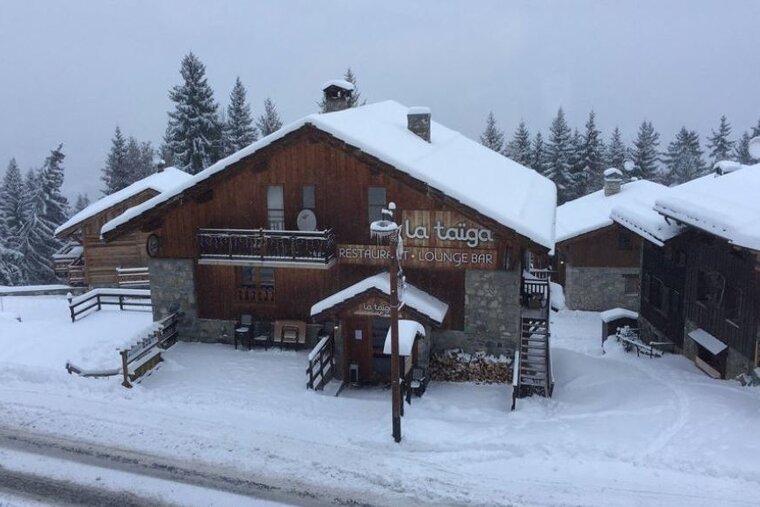 More inspiration...
---
Keep an eye on our Events Calendar for all the latest parties and events in Courchevel.