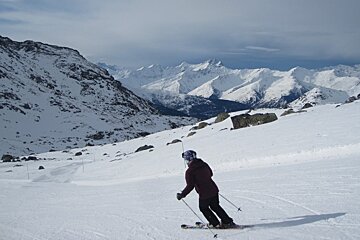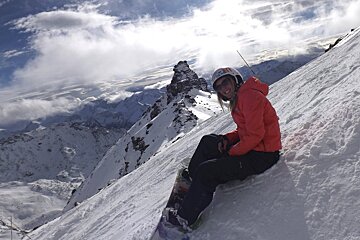 Route 5 - Les Menuires & the '4th Valley'
Exploring the 4th Valley over in Orelle
Starting from Méribel this route takes you across the Belleville Valley, through Les Menuires and into the 'fourth' valley of Orelle.
From Méribel la Chaudanne take the TOUGNETTE 1 & 2 up to the ridge and then turn back onto the red Dahu piste, followed by the blue Matre piste. Just go as far as the base of the ROC DE TOUGNE and take the lift back up to the ridge. This time you are going to cross over into the next valley and ski sown to the GRANGES chairlift via the red Teppes piste.
Take the GRANGES back up to the ridge and begin the long descent into Les Menuires via the red Allamands piste followed by the blue Petits Creux piste. Follow the Petits Creux round to the right as far as the ROCHER NOIR chairlift. At the top of the ROCHER NOIR there is a short blue track leading to the LAC NOIR chairlift. The black Lac Noir piste at the top of the chairlift takes you back down to the MASSE 2 cable car. Once out of the cable car you can enjoy a long run from Point de la Masse along the black Masse, red Longets and blue Vallons pistes, all of which lead on from one another. At the end of the Vallons run take the DORON chairlift and return to Les Menuires via the blue Boyes piste. Continue until you come to the base station of the BRUYERES 1 & 2. From the top of the 2nd cable car you take the Marielle track to access the long blue Plein Sud piste. Next take the MOUTIERE chairlift followed by the FUNITEL GRAND FOND then ski into the Orelle Valley down the red Mauriennaise piste at the bottom of which is a refuge serving lunch.
Lunch: Chalet Refuge Chinal Donat. Sunny terrace and reasonably good value food. Tel +33 (0)4 79 56 53 01. Alternatively, take a picnic lunch and enjoy the spectacular views.
Take the PEYRON and BOUCHET chairlifts before descending down the red and blue runs of the same names. Take the ROSAEL chairlift and then take the Chamois and Variante red runs, followed by the blue Fond piste and then the green Combe de Thorens slope. The PLEIN SUD chailrift and the 3 VALLEES cable car will return you to the ridge, from where you can take the red Lac de la Chambre all the way down to the base station of the PLAN DES MAINS chairlift. Once off the chairlift you have a pleasant return to Méribel Mottaret via the blue Sitelle and Matre pistes and the green Truite piste into Meribel.