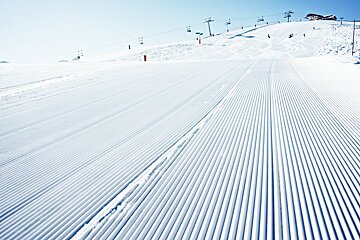 Beginner ski areas in Courchevel
Discover the top Courchevel beginners skiing
First time skiers and snowboarders, or beginners looking to improve their technique will find plenty of good areas to practise in Courchevel.
23% of the pistes in the ski area are graded green and 35% are graded blue, making it the perfect place to learn and practice skiing or snowboarding.
Best beginner areas
Courchevel ski resort is made up of 5 different villages at various altitudes, each with their own beginner ski area, at least one free ski lift and different grades of pistes. The beginner zones are gently sloping and will allow you to practise your turns before deciding whether or not to venture further up the mountain. These areas are called 'ZEN' areas and are marked on the Courchevel piste map, always located next to at least one free chairlift. Some of the chair lifts across resort are equipped with magnetic backs for child safety when travelling on the lifts, you will need to ask one of the lifties for a magnetic vest before getting on.
Courchevel 1850
This is the best place to head to if you're a complete beginner. This area has the biggest concentration (5) free ski lifts, 5-6 green pistes and the same number of blue pistes heading back into the resort centre. The Pralong Zen area is situated next to the Ferme and Altiport drag lifts. This large beginner's area makes for a great place to start off on skis or a snowboard. With the easy drag lifts you can start off with the shorter Ferme and when you have built up a bit more confidence, you can tackle the slightly longer Altiport drag lift. There is also the Golf Zen area, next to the Jardin Alpin bubble lift, which is a little smaller than the Pralong area and has two magic carpet lifts to get you started. There's also a family snowpark in 1850 which is one of 3 fun areas where you can practise your skills.
Courchevel Moriond
The next largest beginner area is Courchevel Moriond and it has three free ski lifts, 4 green pistes and around 13 blue pistes. There is a fenced off area exclusively for beginners serviced by a free drag lift (called Mickey) where you can build your confidence without having to deal with a lot of other skiers.
Courchevel Village
Courchevel Village has a beginner zone and free lift called Roys and a short green piste running alongside it. There are also three blue pistes running back to the village and a fun luge track that starts at the top of the Grangettes lift, which makes a nice change from skiing if your legs start to get tired.
La Tania
The beginner zone closest to the La Tania village is called the Troïka and connects via a long green piste (Plan Fontaine) to another beginner zone and free lift at the top of the La Tania gondola. There are also two long blue pistes, one which starts from the top of the Bouc Blanc lift and one from slightly lower down at the top of the Stade lift.
Courchevel Le Praz
Courchevel Le Praz also has a beginner designated area called Envolée Zen, located next to the Envolée drag lift and the ski jump. There aren't any green or blue pistes feeding back into the village here though, so if you're a complete beginner you might be better off heading to 1850 or Moriond.
The whole area above Courchevel Moriond and Courchevel itself, from the Verdon bubble towards the resort are a paradise for beginners. Hundreds of man-hours of preparation go on every night to ensure the pistes are absolutely perfectly groomed at 09:00 every morning. These pistes are wide and shallow as they approach the lower part of resort and with a selection of different greens you can practice what you have learned and build confidence as you go. These slopes give you the opportunity to get back to resort without losing your confidence, even when you are tired at the end of a long day up the mountain.
Beginner ski lessons
If you're learning to ski for the first time, Courchevel has plenty of choice of ski schools who teach children's ski lessons and adult's ski lessons. Children's lessons are determined by their age and ability, whilst adult lessons are determined by ability and interests.
Beginner ski passes
If you're joining a ski school as a complete beginner, you will probably start off in the nursery areas where a ski pass isn't needed, making use of the free beginner ski lifts or just practising on the slopes without using any lifts at all. There are five free beginner ski lifts in Courchevel 1850, three in Courchevel Moriond, two in La Tania, one in Courchevel Village and one in Le Praz, so if you're a complete beginner you won't need a ski pass at all in these areas.
If you're a skier looking to progress after having already learnt the basics, you can buy a ski pass from as little as 3 hours to explore the wider ski area. You should consider buying a Courchevel Minipass which is specifically for beginners, or the Courchevel only ski pass rather than the 3 Valleys ski pass (which includes the neighbouring resorts of Meribel and Val Thorens).
Children under 5 ski for free, but they still need to have a hands-free pass for access to all the lifts - these can be picked up at one of the ski pass offices once you're in resort. Children under 1.25m height must be accompanied by an adult on the chairlifts and there must be no more than 2 children per adult (one on either side).
Beginner ski hire
Pre-booking your ski hire in advance allows the hire shop to prepare for your arrival and smooths the process. A key thing you should consider when booking your equipment is how close your accommodation is to the ski hire shop, or to the foot of the pistes for when lessons have finished. Even if there are several equipment options to choose from, we recommend you go for the most basic. Beginner skis are short, flexible skis that are easy to turn or, if you're snowboarding, you'll have a shorter stiffer snowboard that's easier to control and generally cheaper too. You won't need to know about the technical aspects of any of the equipment as ski hire shops will advise you to get the best model for your ability and size once you've booked.
What should I wear when skiing or snowboarding?
Buying all the gear before you go can be daunting if you've never set foot in a ski resort before. The key items to bring with you, along with the obvious ski jacket, ski trousers and sunglasses, are as follows:
Layers - thermal tops and leggings, fleeces, hoodies, hats and a good pair of ski gloves and a helmet. Weather on the mountain can change pretty quickly, and you are much better off wearing layers of thinner items as opposed to a big, bulky jumper.
Socks - a variety of socks ranging in thickness, it may sound weird but in our experience hire boots can be quite painful with the wrong socks.
Sun cream - even when it's cloudy the sun here can (and will) still get you, and don't forget the underneath of your chin as the sun reflects off the snow too. Don't forget a lip salve with an SPF.
Piste map - make sure to always have one in your pocket while you're out on the mountain. You can pick up paper copies from the lift pass or tourist office once you've arrived in resort.