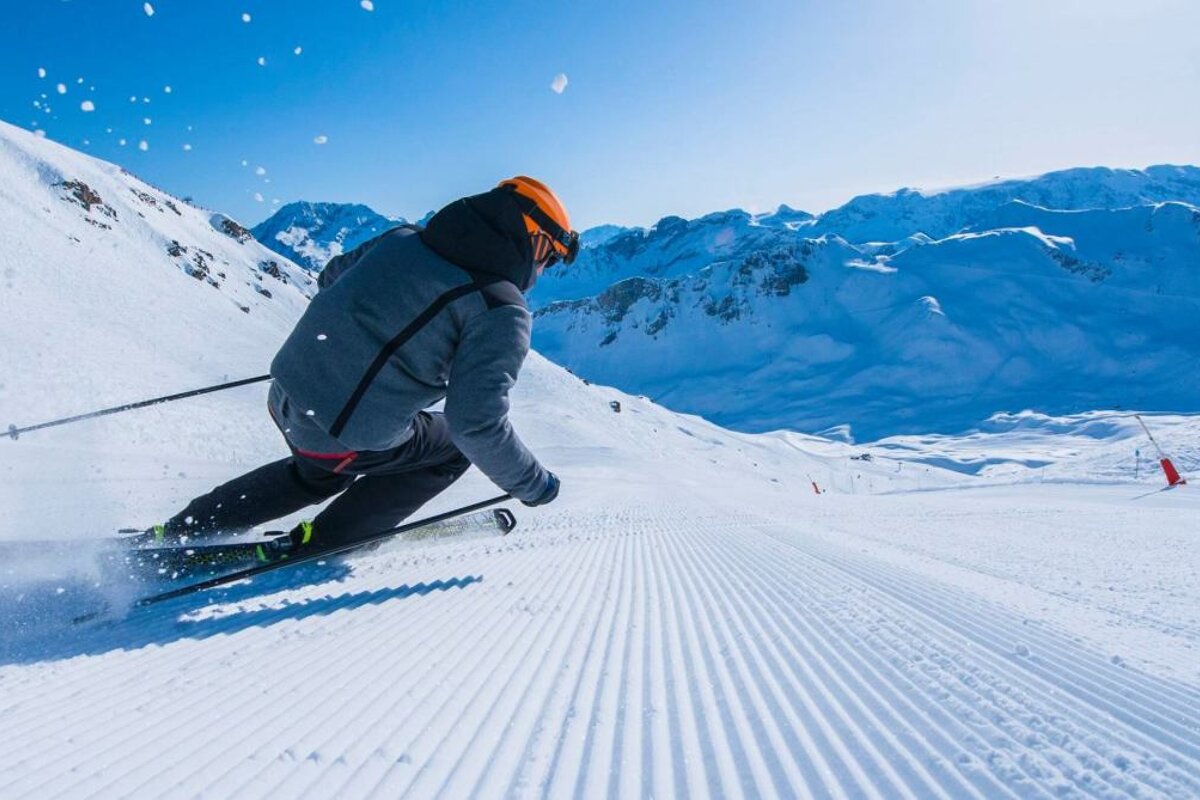 Why advanced skiers love Courchevel
Courchevel is packed with serious terrain for skiers and snowboarders
The Three Valleys, one of the world's largest ski areas, has over 200 lifts and more than 85% of the skiable pistes are situated above 1,800m. In total, there are 600km of interconnected ski runs, which is an epic amount, and there's certainly enough to keep intermediate and expert skiers and snowboarders occupied.
Here are a few reasons why advanced skiers and snowboarders should pay Courchevel a visit.
Reds and Blacks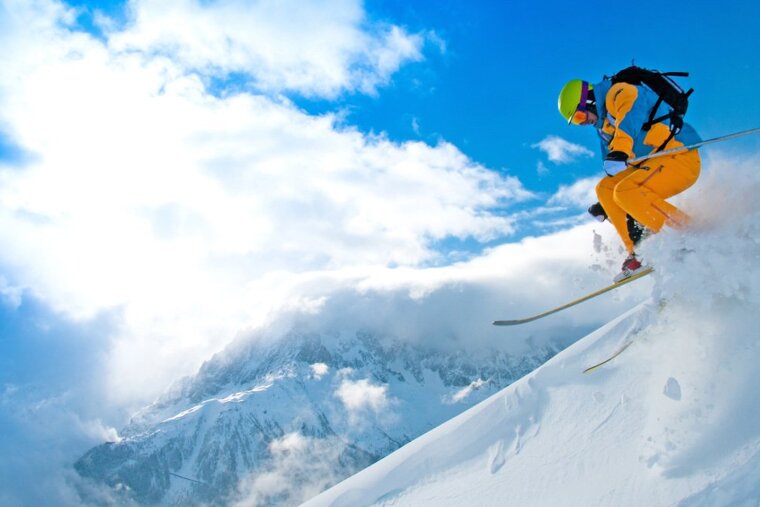 There are a wealth of challenging runs for experienced skiers in Les 3 Vallées – 33 blacks and 113 reds in all. In Courchevel itself there are 38 reds and 10 blacks, with a variety of different landscapes to conquer, ranging from deep forests to narrow corridors and wide open spaces, high altitudes and perfectly positioned slopes.
In the higher parts of the resort you'll find some challenging reds and blacks, in fact Courchevel is known for having some of the hardest black runs in the world. The couloirs at the top of Saulire cable car are the ones that people challenge themselves with most. Two of these couloirs are actually considered pistes and are graded black. The Grand Couloir is the easiest of the bunch, and the second, Couloir Tournier, takes you into Méribel. With an average gradient of 33 degrees these bad boys will be sure to test your skills.
A new black run, called L'Eclipse, has been designed for the 2023 World Ski Championships men's events, and with a gradient of 30% it is for expert skiers only. It's 3.3km long, taking you through forests and offering a bird's eye view over Courchevel le Praz and the Olympic ski jumps.
In addition you'll find a bunch of testing black runs at the top of the Susses lift, the top of the Vizelle bubble, and at the top of the Saulire. You'll find steep gradients to get those thighs burning on any of these challenging piste runs.
Going off piste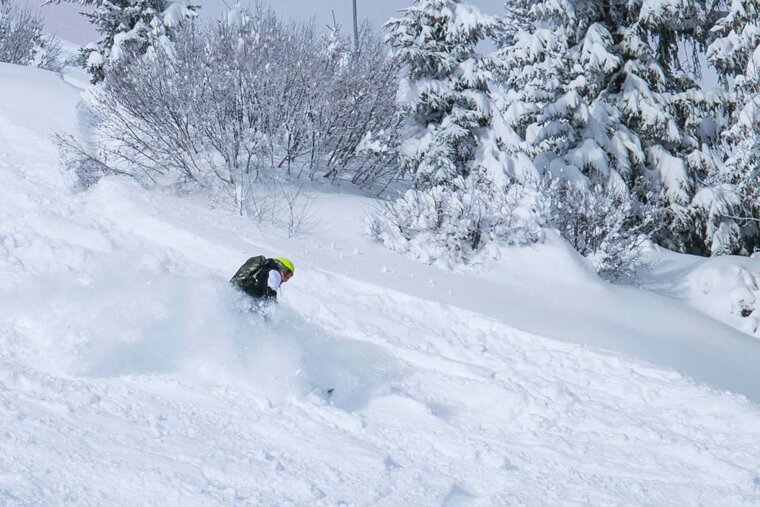 If you are an experienced skier or snowboarder then you don't just have to stick to the pisted ski runs. Les 3 Vallées offers fabulous off-piste skiing, with everything from glaciers and wide open powder bowls, to tree-skiing.
After a snow dump the easiest place to head is the Bel Aire area above Courchevel Moriond. A short hike from the famous Grand Couloir piste you'll find excellent off-piste in the Petit Couloir or in the Croix des Verdons Couloir. The well known off-piste areas of Col du Fruits and Vallée des Avals will take you far from the pisted areas and we strongly recommend hiring a guide.
Off-piste skiing or snowboarding is different to piste skiing or snowboarding, and therefore needs a slightly different approach. It's definitely worth a lesson in 'off-piste' techniques if you're new to it, or would like some tips for riding steep and deep powder. It also pays to have someone with a bit of local knowledge, a mountain guide/off-piste instructor will be able to show you all the best spots to suit your ability.
For those of you that enjoy ski touring or splitboarding, you'll be able to access some of the most beautiful, untouched parts of the Courchevel region.
Ski touring and avalanche gear can be hired from most ski shops. It's recommended to go with a professional, and never to go off-piste on your own.
Parks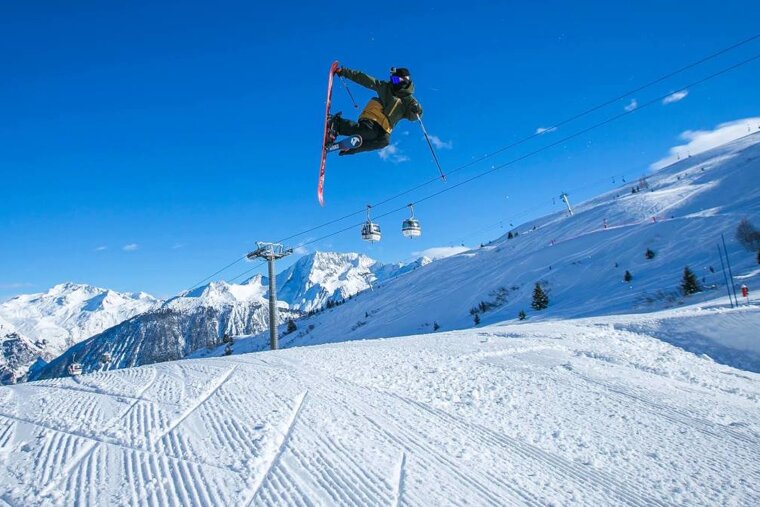 If you've had enough of piste skiing and want to challenge your freestyle skills then the Family Park in Courchevel is the place to go. Situated in the heart of Courchevel 1850, right next to the Verdons piste and underneath the gondola, it offers you the chance to practise and hone your skills. If you're a keen freestyler then it's the perfect place to try some rails, boxes, moguls, a big air bag and more. It also opens one night a week as part of the Verdons By Night, which is your chance to enjoy the park beneath the stars.
Linked resorts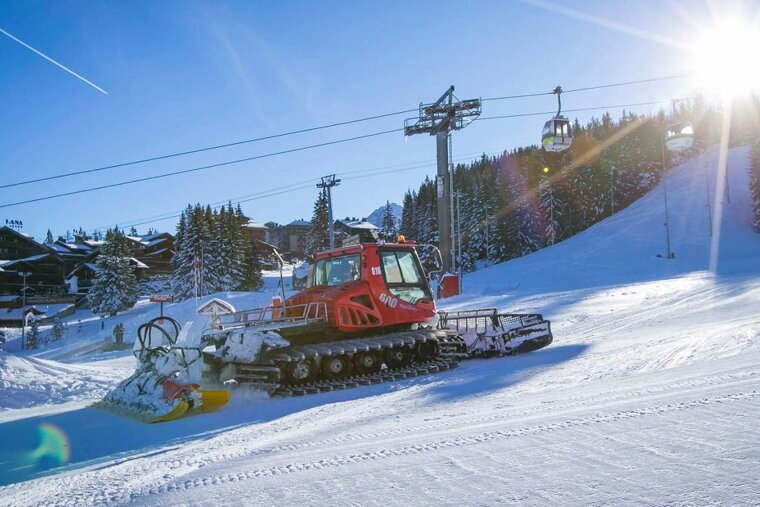 Of course you can tick off the couloirs and the challenging blacks and reds, but to really see all that this domaine has to offer, look further afield than Courchevel. Les 3 Vallées is the largest fully linked ski area in the world, with a vast network of 600km of pistes offering a total vertical drop of more than 62,000m. Courchevel itself connects five resorts under the Courchevel banner: Le Praz, La Tania, Village, Moriond and Courchevel. They all offer something to the ski experience, whether you want to practise tree runs around Le Praz and La Tania or race around the fantastic pistes in Moriond. Courchevel is also an ideal base from which to explore Méribel, Val Thorens, Les Menuires, St Martin and Orelle, with 12 ski summits over 2,500m and varied skiing ranging from high glaciers to picturesque forest runs.
If you like to cover as many kilometres as possible, plan a day skiing to the furthest extremity of the area, Orelle. Sometimes called 'the fourth valley' this area beyond Val Thorens offers superb views, plus the highest skiing point in the whole area at 3,230m. There is a new Orelle gondola replacing the 'Three Valleys Express' which make access there and back much quicker and easier, plus Orelle's sunny orientation makes it a perfect spot for a long picnic lunch before heading home. The furthest point in the opposite direction is the Chapelets run above Courchevel-Moriond. Worth visiting for its charming scenery and the peacefulness.
Great weather and snow conditions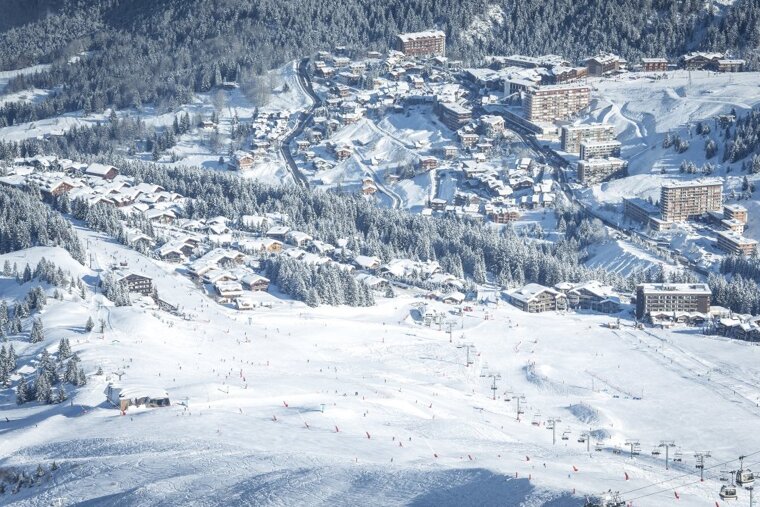 Les 3 Vallées ski area ranges between 1,300m and 3,230m, and 85% of it is located above 1,800m. You can always find great snow, whatever the weather conditions, thanks to its situation and excellent snow-making facilities.
The nature of the resort and the meticulous placement of the 2,300 snow cannons that cover more than 50% of the ski area ensures there is continuous snow cover, which is maintained by around 70 grooming machines every night. It is a pioneering resort in terms of its slope preparation because of this well honed piste grooming and exceptional snow management system. This combined with the constant maintenance and reshaping of slopes make it simply one of the best resorts in Europe.
Modern lifts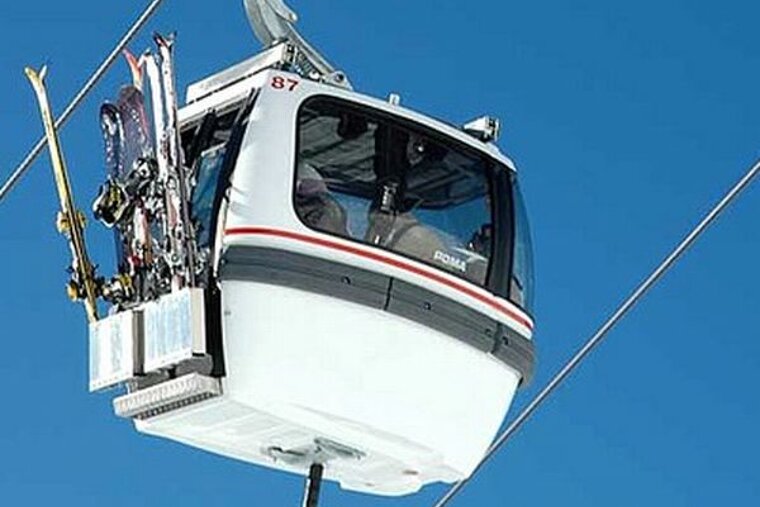 Les 3 Vallées spends millions of euros each year upgrading its lifts, meaning you are whisked at speed and in comfort to the summits. The result is you can spend more time skiing and less time sitting on lifts or queueing.
Ski in, ski out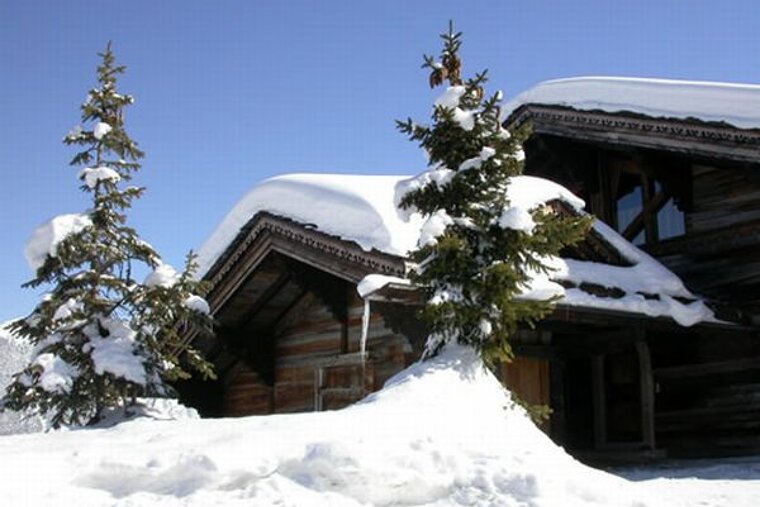 Courchevel has the bonus of being a ski-in, ski-out resort with some accommodation located on the pistes. This is ideal if you are an experienced skier or snowboarder, because what better way to start the day than to be straight on the slopes the minute you walk out of the door. And even better to finish off the day with that last run taking you straight back home again, no lugging skis, snowboards and the like on and off buses and through the streets. Dump your gear and get straight out for après, or pile into that tea and cake your chalet hosts have so kindly left out.
Something else to do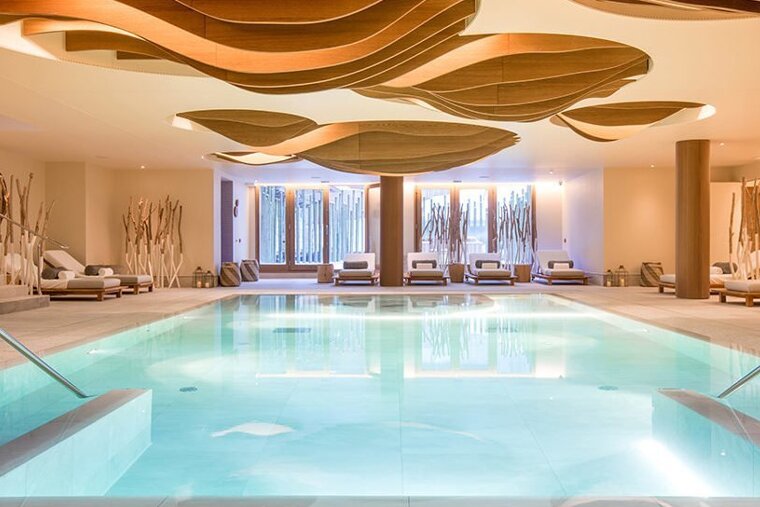 Even the most die-hard skiers and snowboarders need some down time, and whilst it's difficult to imagine needing a break from all of that, it's good to know there's something else to do in resort when you want to spend time with your family and friends.
Whilst Courchevel has great bars and restaurants offering up some of the best food and après-ski in the French Alps, there are other ways to entertain yourselves in the evenings and on that much needed day off.
You can drive a dog sled or horse-drawn sleigh, go skidooing or ice skating. Alternatively if 'chill' is at the top of the agenda, visit a spa for a relaxing treatment or take a dip in the pool at Aquamotion. There's definitely no shortage of things to do, or not, in Courchevel.
Safety first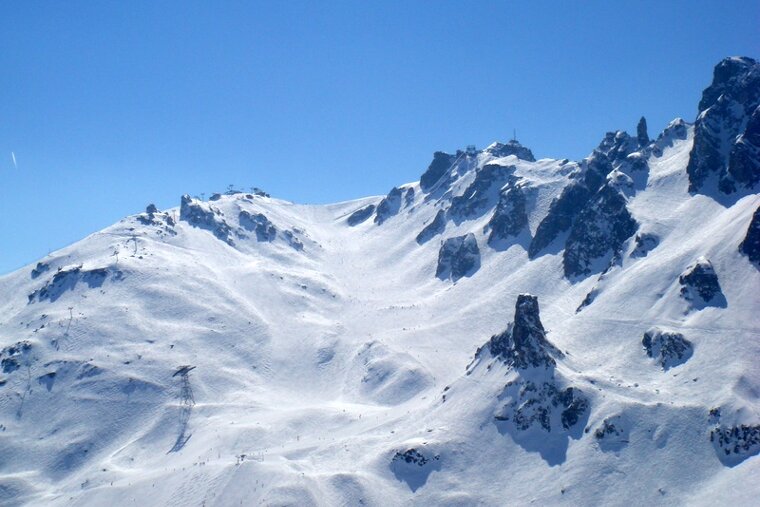 Exploring beyond the ski resort boundaries is an amazing experience for anyone who's physically fit and has mastered the pistes well enough. There are, however, risks associated with venturing outside the safety of the marked/patrolled ski area, including awareness of your actions on those below you on the slopes. Mountain guides are professionally qualified and have extensive knowledge of the local terrain to provide you with the safest and most enjoyable possible experience in the mountains; as a visitor here we highly recommend you hiring one. Many ski schools also provide instruction in off-piste skiing, avalanche safety and mountaineering techniques. Make your time in the mountains unforgettable for the right reasons, ski safe!
Off-piste skiing and mountaineering are dangerous. The opinions expressed in these articles are very much time and condition-specific and the content is not intended in any way to be a substitute for hiring a mountain guide, undergoing professional mountaineering training and/or the individual's own backcountry decision making.
More inspiration...
These are just some of the great reasons to come and visit Courchevel and ski some of the very best pistes that the Alps have to offer, but there are many more. So get out here and give it a whirl.
Location
Courchevel Valley, Courchevel