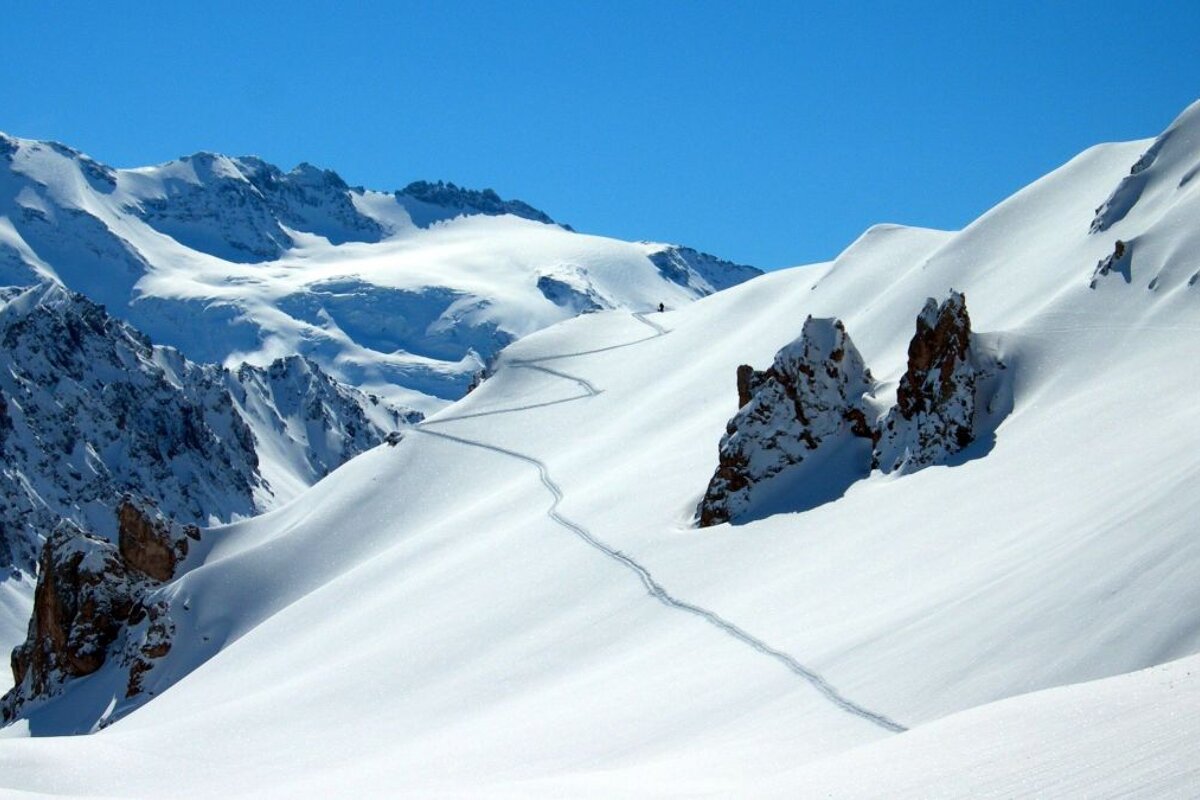 Off-piste Ski Areas in Courchevel
Discover the top Courchevel off-piste skiing
The Three Valleys is an enormous ski area and it probably comes as no surprise to hear that in such a big place, there are plenty of places to head to on a good powder day for some incredible off-piste skiing.
Book My Ski Hire Book My Off-Piste Lesson Book My Mountain Guide
Please only venture off the marked runs in the company of a guide or instructor. Only they have the essential local knowledge necessary to avoid avalanche-prone and dangerous terrain, and they will also find the very best snow. To whet your appetite, buy the guidebook 'Les 3 Vallees. Hors Pistes – Off piste' available at the Maison de la Presse, price at around 24€. Also, check out our avalanche safety guide before you set off.
Off-Piste skiing in Meribel
For some great off-piste skiing head from Loze to Dent du Burgin take the chairlift up and ski along the flat track that leads over to the Dent du Burgin chair (take care, this run is often closed due to the avalanche risk and it is not advised to enter a closed piste). When you are about halfway along the track, drop off to the right for large, swooping open plains of fresh tracks and powder. Also underneath the Loze chairlift there is a very popular off piste run that gets tracked out very quickly. Great fun if you are one of the first to ride it, so make sure on a fresh powder day you head up there on the first lift. Try cutting off to the right and riding in between the trees, and it's even possible to enjoy powder in between the trees all the way down to Meribel Village on a good snow day!
The area around the Cote Brune chairlift is a beautiful area to ski in fresh powder. It pays to be imaginative and put in a bit of hard work around here. A short hike can take you to some incredible descents and some amazing fresh tracks.
Another great off piste route is from Olympic to 'Le Raffort' to do this cut immediately right as soon as you come off of the Olympic Express chairlift. Hike along the ridge until you are satisfied that the slopes down to the right are suitably untouched. For the more daring, the further along you hike, the bigger the initial drop to get onto the slope is. Careful not to ski into the stream at the bottom - once you reach the stream, find a crossing point and enjoy the winding 'Le Raffort' piste all the way down to Brides les Bains.
Take the Roc de Tougne (it's Meribel's toughest drag lift, especially on a powder day) and it will immediately become apparent where you should be skiing. Long off-piste runs stretch out on either side of the drag track and a bit of a traverse at the top will be sure you find you some untouched fluff!
If you are heading back from Val Thorens, head straight off the 3 Valleys chair lift to find a lovely pitch of powder that will be sure to get the adrenaline going, before joining up with the long schuss of the Lac de la Chambre.
Off-Piste skiing in Val Thorens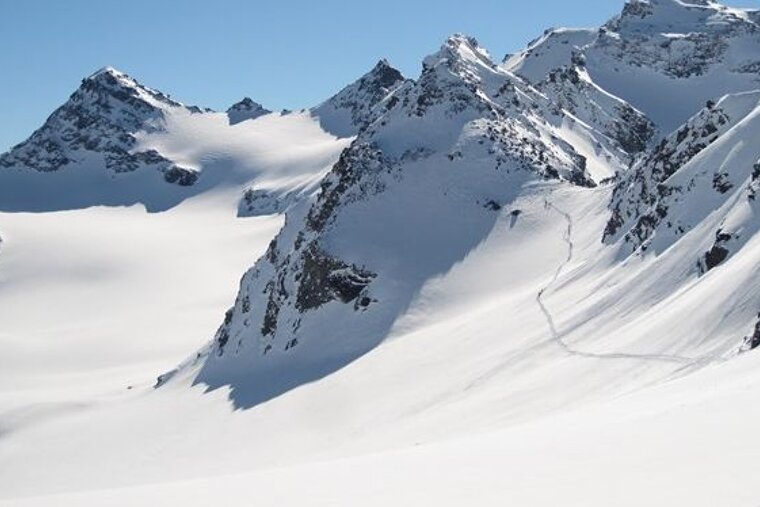 Val Thorens is one of the most beautiful areas in Europe for off-piste skiing and ski touring. The area is surrounded by six glaciers, giving endless fields of powder snow in breathtaking surroundings.
Discover the glaciers of the Vanoise (check out the descent from the Gebroulaz glacier towards Méribel or Pralognan) and the most beautiful off-piste skiing in the Three Vallées in the amazing Maurienne side of the valley.
You can join in guided off-piste tours with the Bureau de Guides or ESF Val Thorens; excursions are led by high altitude mountain guides who are also qualified ski instructors. Expect to walk or skin uphill for anything up to an hour, in return for untouched snow and deserted descents. Depending on snow and weather conditions you may picnic on a summit or in a local restaurant and may ski anything from deep powder, to crud, to spring snow. You need to be a strong skier with some off-piste experience to take part.The guide provides avalanche transceivers; you need to bring a 'can-do' attitude.
If you are an experienced off-piste skier Val Thorens has several recognised off-piste tracks starting at the top of several of the peaks. The weather must be taken into account when attempting any of these off-piste itineraries, not just on the day but also the build-up to it as, due to the altitude of Val Thorens, the snow and wind can create some precarious situations.
Popular off-piste routes include: The Pierre Lory from the top of the Col chair into the Maurienne Valley; La Masse to Lac du Lou La Masse down Vallée des Encombres; further down the valley above St Martin the area between Jerusalem and Pramint is renowned for its off-piste skiing, especially with the instructors and their clients. But you have to be quick, otherwise the Meribellians get there first!
Before heading off-piste
Before you head off piste, here's a few things you should be thinking about:
Take a course in avalanche awareness and practice the techniques learned. Henry's Avalanche Talk is one way to find out more with regards avalanche safety and there are several companies who run courses in alpine resorts throughout the winter.
Look at the weather and avalanche forecasts for France, reviewing the degree of local avalanche risk also. Henry's Avalanche Talk produces a translation of current avalanche conditions in English and PisteHors is also an excellent reference place.
Don't ignore advice given by local mountain guides or others if advised to ski a certain path, or to keep a specific distance between fellow members in a group
Plan the route carefully, evaluating all different options and assessing all elements of danger. Look at the timings for each route. Inform others of your route, and when you expect to arrive back
Attach your transceiver properly to you and DON'T FORGET to turn it on, test the signal is working, and make sure you have all the necessary equipment. (A transceiver is of no use if the user has not been trained in its use, it is turned off, or it is in a rucksack - unless you want just your bag to be recovered).
Read more about understanding avalanches & how to try to avoid them.
Off-piste areas in [locality]
After a recent snowfall in Courchevel, the easiest and safest off-piste area to head to is in the Bel Aire area above Courchevel Moriond, either side of Pyramide/Signal/Chapelets.
The tree areas are great for catching some fresh snow and playing off piste - just make sure you have a helmet on and have taken all the safety precautions necessary. With a short hike from the famous Grand Couloir piste, there is excellent off-piste skiing in the Petit Couloir or in the Croix de Verdons Couloir if you don't mind climbing a little further. Also, the Equinox pitch, a 15-minute hike from the top of the Chanrossa chair, is one not to be missed out on a powder day.
There are also the well-known off pistes of Col du Fruit and Vallee des Avals. They take you far away from the pisted area. We recommend as with all off-piste, especially those that are far from the pisted areas, that you have a mountain guide. In the 3 Valleys area it is crucial to have a 3 Valleys pass as you never know which town you will end up in after a day in the powder!