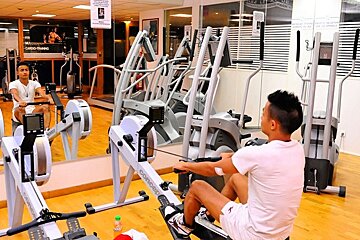 Centre Remise En Forme, Courchevel
Sports centre & fitness studio with an ice rink, Sauna & Hammam
Situated in the centre of the shopping mall in Courchevel 1850 you will find the Centre Remise en Forme.
With gym and fitness centre with regular group glasses, cardio equipment, weight training equipment, a sauna and hammam. You can use the facilities after a hard day on the mountains or to get ready for coming winter or summer season.
The weight area has 20 different workstations where you can improve your muscle tone and train with weight machines or dumbells. Try the cardio area for biking, running, stepping and rowing machines. If you fancy joining a class and having a group lesson enjoy classes such as step, body pump, yoga and more.
If you fancy relaxing after a long day on the mountain then head to the relaxation area, sauna or hammam where you can let the heat soother your muscles.
The ice rink is a great family activity, especially if the weather is not conducive to skiing or for summer outdoor activities. Ice skates are available for rent, along with helmets for children up to the age of 8 years. There are also ice hockey matches on which are fantastic to watch!
Times and prices vary depending on time of year, activity and length of session. Please enquire for more details
Location