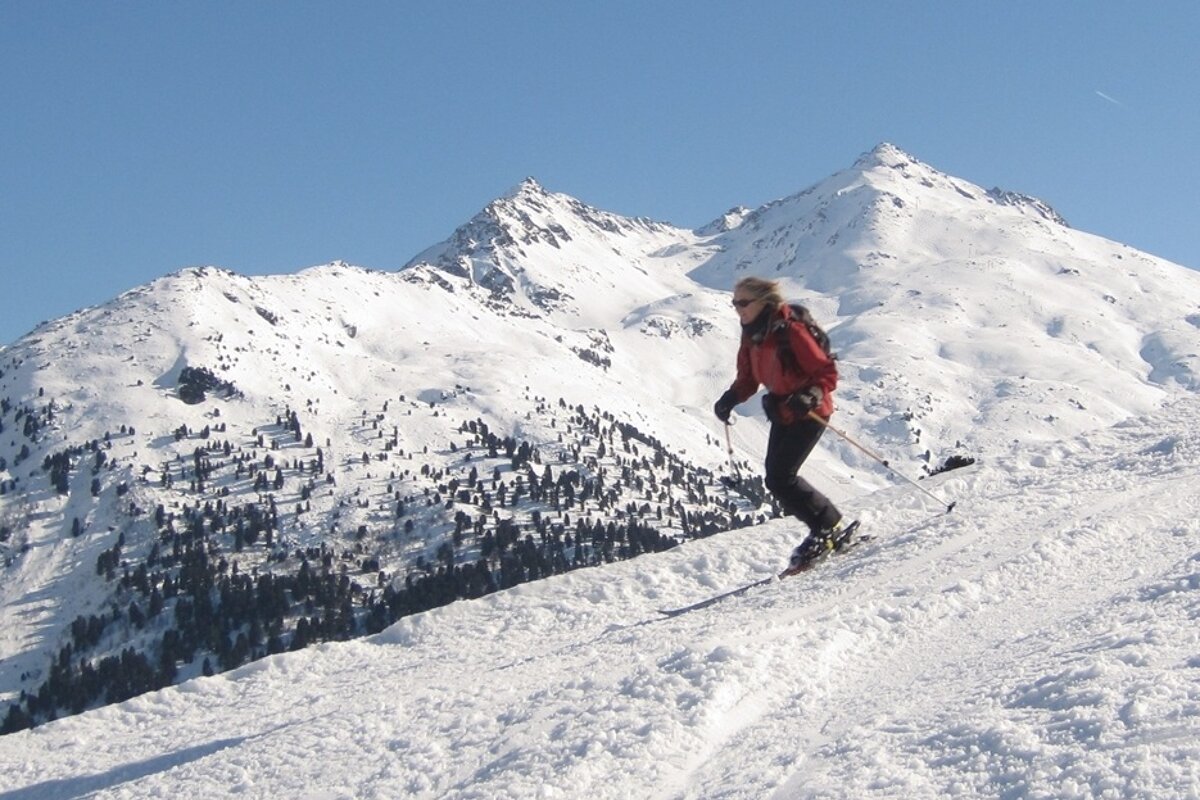 Route 3 – Meribel to Val Thorens
A round trip from Meribel to Val Thorens & back
You'll usually find excellent snow in Val Thorens, but avoid the area on very cold or windy days.
Starting in La Chaudanne take the TOUGNETE 1 & 2 lifts and warm up by coming back down on the red Dahu piste, which then merges into the long blue Martre run. Do not follow the Martre all the way to the end though, about halfway down there is a turn-off for the ROC DE TOUGNE lift. Take this up to the ridge and then come back down the red Lagopède, which brings you back on to the second stretch of the Martre. This time you should follow the piste all the way down to Méribel Mottaret, where you can pick up the PLATTIERES 1 & 3. This last long lift will take you back up to the ridge, where you will now drop down into the Belleville Valley.
The red Allamandes followed by the blue Petits Creux pistes will take you to the bottom of the MONT DE LA CHAMBRE chairlift. Once you get off the chairlift you can either take the Marielle and Plein Sud blue runs back to the FUNITEL PECLET or, to avoid the short black run that connects them, take Pluviometre.
From the top of the FUNITEL PECLET you can access the blue Tete Ronde and Dalles pistes before stopping for lunch.
Lunch: Bar de la Marine. Table service, great views, try the speciality, Osso Bucco. Lunch served 12h00-15h00. Tel +33 (0)4 79 00 03 12
Once lunch has settled continue down to the BOIMINT chairlift, from the top of this is it is a short scoot on a red piste across to the CIME CARON. From the top of the Cime de Caron you descend via the black Combe de Caron piste, which leads onto the blue Gentiane piste. The end of this run brings you to the MOUTIERE chairlift. From the top of the chairlift take the blue La Linotte and Chalets runs and then hop onto the PLEIN SUD chairlift, followed by the 3 VALLEES cable car. From here it is a nice cruise down the long blue Mont de la Chambre run back to BRUYERES 1 & 2, which will take you back up to the ridge separating the Méribel and Val Thorens valleys.
Re-enter Méribel on the red Venturon and Bouvreuil pistes, all the way to the foot of the MONT VALLON lift. The red Combe Vallon run will bring you back down to the MURES ROUGES chairlift, which takes you to the PLAN DES MAINS chairlift. The blue Sitelle and Martres piste followed by the green Truite, make for a gentle run back into Méribel Mottaret.