Coming to a ski resort for the first time as a beginner skier or snowboarder can be a bit daunting, especially if this is your first ski holiday in Courchevel. With a little bit of locals know-how, we've got some suggestions to help you make the most of your time skiing here.
Luckily, Courchevel has been described as a haven for beginner skiers, so you're in good hands in one of the most diverse areas of the Three Valleys.
---

Which lifts can you use for free?
A lift pass can be one of the most expensive parts of your holiday, but Courchevel resort have recognised that as a beginner you won't need a pass for a lot of the ski area, so they have allowed certain lifts to be completely free.
In Courchevel 1850 the free lifts are: Bellecote, Etoiles, Cospillot, Golf 1 and Golf 2 on the magic carpet (find them on the piste maps). These are all drag lifts and cover the most friendly pistes for beginners. At the top of the Bellecote lift there is a lovely little restaurant called Courchneige which sells incredible (and budget friendly) lasagna, chips and crepes, so you can congratulate yourself on surviving your first drag lift experience. Drag lift top tip: don't try to sit down!
At the top of the Cospillot lift there is a similar treat in the form of the Snackbox which is well known for its pizza. The run back down alongside this lift is a very pretty tree run from which you can admire the stunning chalets and mountain views. A bit lower in Courchevel 1650, there is a designated beginner area, with a free drag lift (called Mickey) that's away from the busy crowds on the piste (it's also conveniently located to the Fire & Ice bar, that runs happy hour everyday from 4.30pm with free pizza.
---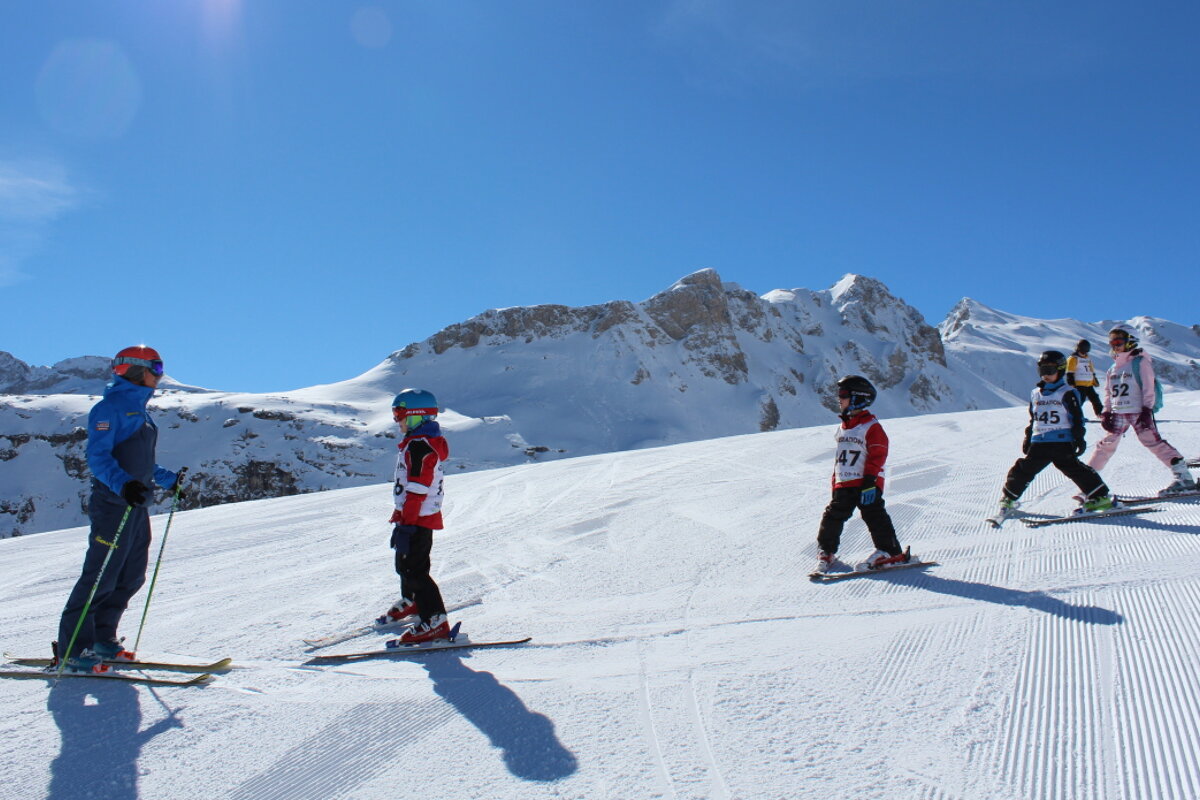 Beginner specific lift passes
The Courchevel mini pass is a great way to save money if you're only going to be staying on the beginner slopes for the first few days. In 1650, this pass includes Mickey, Belvedere and the Petite Bosse drag lifts, and the Ariondaz and Petit Moriond bubbles. These all lead onto the beginner areas in resort, so for the first few days it may be worth investing in one of these.
Up in Courchevel 1850 the mini pass includes all the free lifts plus a few more, so you have a wider range of pistes available to enable you to improve further and see more of the mountain. This pass also includes beginners areas of Courchevel 1550 and Le Praz and is around €27 per person, per day (check at the lift pass office for this year's prices).
---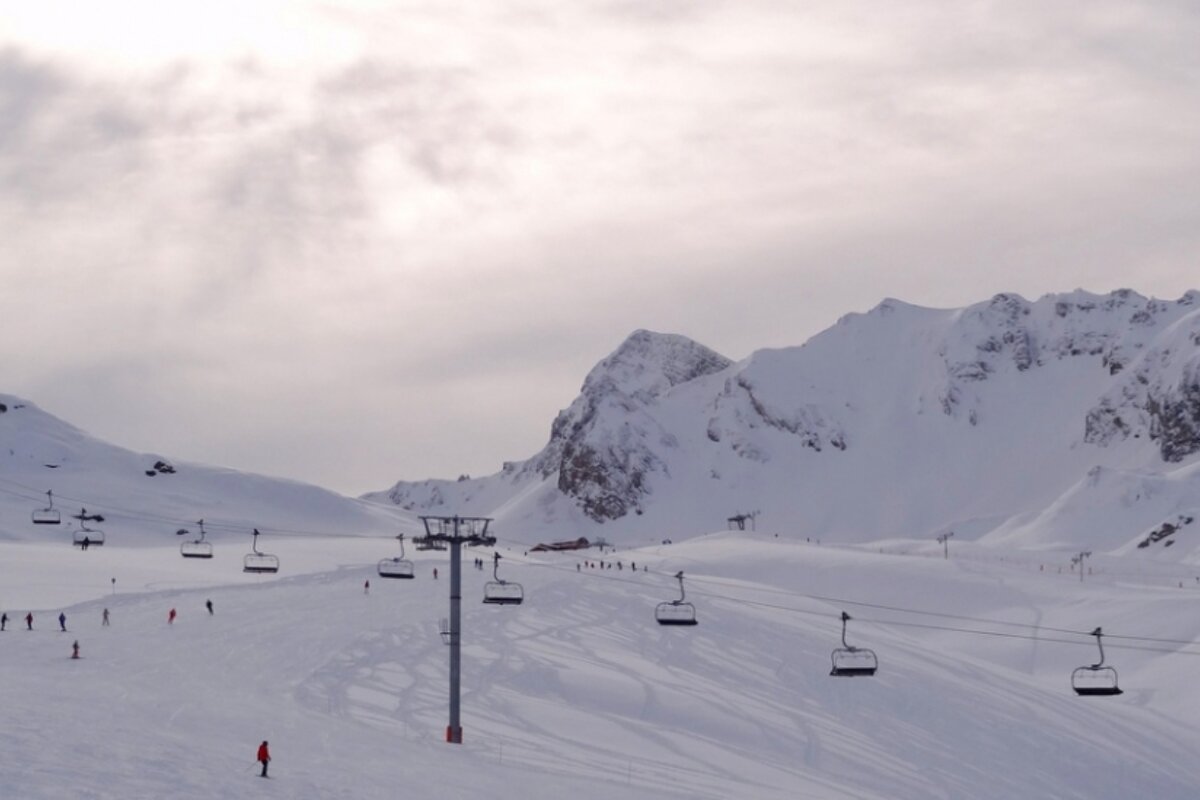 Which lifts and pistes are best for beginners?
Courchevel 1850 is ideal for every level of skier but especially suitable for beginners. There are several easily accessible green runs including Jardin Alpin. The free Bellecote lift runs alongside this wide and gentle piste so you can lap it again and again until your heart and legs are content. After that take the Verdons gondola to the top of the piste called Renard. This is another gentle green which has some easy blue runs just next to it (Verdons and Biollay) for when you're ready to progress to the next step.
If you're in Courchevel 1650, once you've built your confidence on the free drag lift, head up to the Petite Bosse drag lift and make your way down the Petite Bosse run and on to Indians - a gentle tree run complete with teepees and a barbecue station. All the beginner runs from the lifts above are gentle greens or blues that interconnect, so you won't be stuck doing the same runs all week. For the younger ones, there is a designated area at the top of the Ariondaz bubble lift with two magic carpets and another teepee.
---

Where can you hire your ski gear?
Another pretty important part of your first ski holiday is ski hire. Courchevel 1850 is not short of hire shops including White Storm (English speaking), Jean Blanc (French but speak good English too) and a few Skiset shops. Always be sure to let them know you're a beginner as skis and boots get quite technical and some will suit a beginner more than others.
There are also plenty of ski hire shops in Courchevel 1650, all situated on the main road through town. Francis Blanc sports are located close to the piste and offer a friendly and reliable service. Don't want to leave the comfort of your chalet when you arrive in resort? White Storm ski rental also offer a mobile ski fitting and delivery service. Find more ski hire shops in Courchevel.
---

What to wear / bring and are there any places to rent clothing?
Unfortunately there is nowhere to hire ski clothing from in Courchevel. There are plenty of shops to be the newest range of outerwear but this can get quite expensive as Courchevel 1850 is known for its designer stores including Chanel, Le Croix, Prada and Montcler. If you're on a budget try heading to an outdoor shop such as Decathlon before your holiday.
Buying all the gear before you go can be daunting if you've never set foot in a ski resort before. Look for all weather goggles and technical ski socks, not the thickest ones you can find in your drawer! The key items to bring with you, along with the obvious ski jacket, salopettes and sunglasses, are as follows:
Layers - thermal tops and leggings, fleeces, hoodies, hats and a good pair of ski gloves (nothing worse than cold fingers!) Weather on the mountain can change pretty quickly, and you are much better off wearing thinner items as opposed to big, bulky jumpers that take you from one extreme to another!
Socks - a variety of socks ranging in thickness, it may sound weird but in my experience hire boots can be quite painful with the wrong socks.
Sun cream - even when it's cloudy the sun here can (and will) still get you, and don't forget the underneath of your chin as the sun reflects off the snow too. Don't forget a lip salve with an spf.
Piste map - make sure to always have one in your pocket while you're out on the mountain.
Find ski schools and private ski instructors in Courchevel.
---
Thanks to New Generation ski school for this article. They have a professional, experienced team in Courchevel and you can book a ski or snowboard lesson with them in either Courchevel 1650 or Courchevel 1850. Small group lessons are great for beginners who want to learn in a social setting. Their local instructors will pick the most suitable terrain to build your confidence, and improve your technique throughout the week.