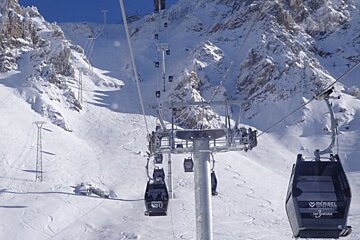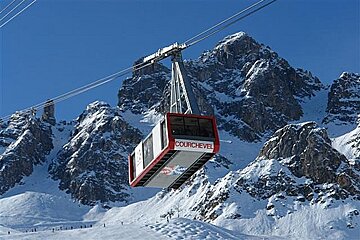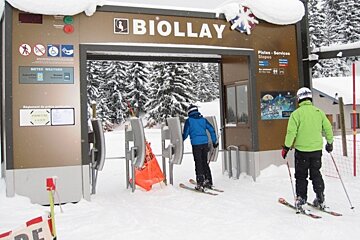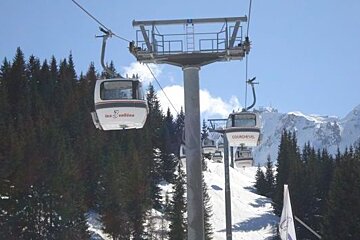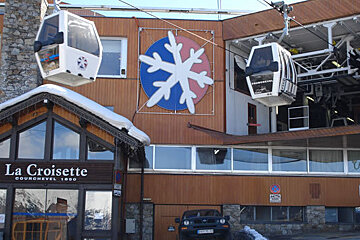 Ski lifts in Courchevel
Discover the top Courchevel ski lifts
Throughout the winter season the Three Valleys operate an impressive lift system consisting of 180 ski lifts that can transport 260,000 skiers hourly!
Courchevel itself offers 1 cable car, 10 gondolas, 20 chairlifts, 29 draglifts and 3 magic carpets, whisking 70,632 riders up into the mountain per hour! Take a look at the piste map to see the ski area.
Courchevel and the Three Valleys are constantly investing in their lift system to ensure that it remains one of the best ski areas in the world. They spent over €50 million on the Three Valleys lift system in 2012 and approximately half of that was on Courchevel. Here are just a few of the improvements that they made:
Finished the construction of the new Saulire Express from Meribel back to the top of Saulire in Courchevel. It was a €20 million investment and the journey now takes just 12 minutes instead of 22.
Increased the Biollay's chair lift capacity by 32% and moved its arrival point to a slightly higher location to provide more options for skiers.
Refurbished one of the two Saulire Cable cars.
Replaced the 3 Valleys fixed chair lift with the €3 Million Petit Moriond gondola. It now provides faster and easier access to the Courchevel Moriond snow front for skiers and pedestrians from the surrounding residences. It is free to use and takes 520 passengers an hour.
You'll also find that the pistes around the lifts will be perfectly groomed each morning. The Three Valley's has 80 piste bashers that operate daily throughout the winter season from 5:00pm all the way through to 7:00am.
To find out what types of lift pass Courchevel has to offer please go to Courchevel Ski Pass Options, to find out how much the various passes cost please see Courchevel Ski Pass Prices. The lifts open every day of the week, even on Christmas and New Year's day.
A selection of the lifts are also open throughout the summer when the mountains offer spectacular views and are a great place for spotting some Alpine wildlife. The Verdons gondola and Saulire cable car can take you to the highest point of Courchevel (2738m) and provide access to mountain biking routes, walking trails, paragliding take off sites and more. There is plenty to do whether you are an experienced mountaineer or a fan of gentle rambles with a picnic!
3 Valley Lift Access & Restrictions
Cable Cars
Gondolas
Chair Lifts
Drag Lifts
Wheelchair access*
Y
Y
Y
Y
Paragliders**
Y
Y
Y
X
Pedestrians***
Y
Y
Y
X
Dogs****
Y
Y
X
X
Babies*****
Y
Y
Y
X
*Please see the list of Handiski Authorised Ski Lifts in the Trois Vallées for full details. Please note: If not accompanied by a handiski instructor, the person in the wheelchair will require someone to assist them in accessing the lifts. This person will be able to claim a discount on their lift pass price.
**Take off points for private paragliders are at Bouc Blanc and Col de la Loze. Tandem paragliders who are flying with an instructor can take off at Col de la Loze, Vizelle and Saulire. All private paragliders and instructors must carry a valid license and adhere to the flight rules regarding the ski areas and the close proximity of the Altiport. Please read Courchevel for Paragliding to find out more.
***Please go to Courchevel Lift Pass Options - Winter to find out which lifts in the Trois Vallée can be accessed with your pedestrian lift pass.
**** Dogs are generally not allowed on lifts during the winter. This rule is relaxed during the summer, providing dogs are kept on a lead.
*****It is not recommended to expose babies or young children to sudden changes in altitude or temperature. If lift staff consider your child too young to travel on certain lifts they have the right to deny access. Please read our Tips for Families & Kids section for advice.