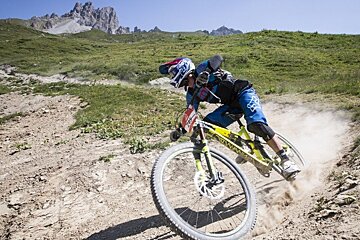 © http://addicttour.les3vallees.com
Three Valleys Bike Competition, Courchevel
3 Vallées Tout Terrain
The Three Valleys Mountain Bike competition takes place in the 3 valleys at the start of the official summer season.
The event has 15 huge timed stages, ski-lift assisted liaisons, 10,000m+ total descent, varied terrain from a man-made bike park to technical Alpine Singletrack.
For experienced riders only, the event takes place on blue, red and black trails.
It's based around three-day, pairs format and races are either all-male, all-female or mixed.
Watch this